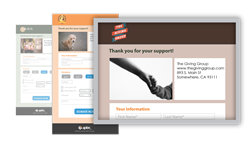 A donation webpage should never be a roadblock for a nonprofit.
Fresno, California (PRWEB) October 08, 2014
Aplos Software, a web-based software company specializing in nonprofit software, unveiled today a more affordable method for nonprofits to securely and effectively accept online donations. Using Aplos Donations, nonprofits can follow online fundraising best practices, such as using a branded donation webpage, with no monthly fee.
While there is a wide array of online fundraising options on the market, few platforms are well-suited for small- and mid-sized nonprofits. Solutions that offer branded pages are typically expensive. Fundraising software with low monthly fees often come with high transaction fees ranging from five to eight percent and with fewer branding options.
"An affordable and effective donation webpage should never be a roadblock for a nonprofit," said Tim Goetz, CEO and co-founder of Aplos. "Nonprofits and churches, especially the smallest ones, need access to online donation technology for an affordable and simple way to raise funds."
With continued yearly growth, online giving is showing no signs of slowing down and donors are demanding credit card processing from the nonprofits they support. Online giving increased by 13.5 percent in 2013 and continues to outpace growth in other forms of giving. This is particularly true for smaller nonprofits with less than one million dollars in revenue, which grew by 18.5 percent (Blackbaud, 2013).
Using Aplos Donations, nonprofits can create as many donation webpages as they need and can customize them for differing purposes. The form can be modified for various campaign themes by changing messaging, color schemes, images, or the types of donations accepted. The donation pages can be accessed on any device and can be easily shared to have maximum flexibility for accepting donations online.
Aplos Software partners with We-Pay to securely process credit card, debit card and ACH transactions on behalf of nonprofits. In addition to one-time donations, nonprofits and churches can accept recurring donations, which is a vital key in stabilizing their financial base and is helpful for churches accepting tithe online. Donors can also easily log in to manage their donations and view their contribution history.
About Aplos Software
Trusted by over 10,000 organizations, Aplos Software specializes in web-based software that makes it simple to manage nonprofits. The Aplos suite of nonprofit software includes Aplos Accounting, a fund accounting software; Aplos Donations, an online donation and contribution management software; Aplos e-File, an IRS return and submission software; and Aplos Oversight, a management software for accountants or administrators to easily oversee the finances of multiple nonprofits or churches. Based in Fresno, California, Aplos Software was founded in 2009. For more information, visit https://www.aplos.com or call Aplos Software at (888) 274-1316.