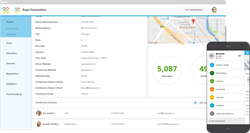 Expo Pass integrates key planning components into one easy-to-use application
Chicago, IL (PRWEB) April 20, 2017
Expo, Inc. today launched Expo Pass, a new all-in-one event planning application for web and mobile devices, that streamlines project management, creates impactful user experiences, and provides the best return on investment for conference organizers and exhibitors.
Expo Pass is a full-service conference application for anyone who manages conferences, trade shows or events of any size. The app provides all of the planning tools needed for the event planning life cycle -- before a conference begins, during live events, and at the conclusion when contact information and event analysis are needed. The app is especially effective for registering attendees, partnering with exhibitors, managing live sessions, and retrieving important contact information for lead generation.
"When we surveyed leaders in the event managing market, we learned of their frustration in using multiple systems to put on a single conference. Expo Pass integrates key planning components into one easy-to-use application, which frees time for critical event promotion and relationship building," said Expo Chief Executive Officer Doug Moring.
With real-time updates, conference organizers can instantly communicate any event change with attendees. For example, if a speaker or session name changes, users can see the update instantly. Even without an Internet connection or WiFi, Expo Pass' technology is always working. The app features an offline sync function, so that information is always available on mobile devices.
The technology offers other special features for a variety users:
For event planners, registration is conducted through an easy tool with customized fields to gather information from attendees, media and exhibitors. The app provides the ability to target audiences for event marketing, such as offering promotion codes and early bird discounts. The app also helps validate memberships, as a way to manage event fees. And the app delivers real-time feedback about sessions from attendees. Expo Pass supplies a special template that allows organizers to easily print badges onsite at a show.
For exhibitors, lead retrieval from a conference is important, and Expo Pass allows real-time access to event participants. At all times, exhibitors can scan leads and import data into Customer Relationship Management (CRM) tools. When qualifying leads through the app, users can upload questions to be answered later and insert details about conversations and interests.
For conference attendees, Expo Pass provides a free event app that allows them to easily locate exhibitors, explore sessions, learn about speakers, and create their own agenda. Once a session ends, attendees can provide feedback that instantly informs event organizers. The app allows attendees download vendor materials, engage in a conversation through a special social feed, and obtain other details before, during and after events.
"Mobility is changing user experiences for conferences and events. We are committed to keeping up with industry trends and innovating ways for the event planning industry to make the most of in-person interactions," said Moring.
Expo Pass (iOS and Android) is a free downloadable app for event organizers. For more information, visit expopass.com.