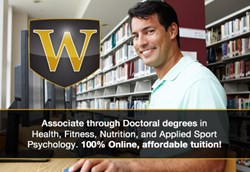 Earning your degree in health and fitness opens 1,000 career doors for you
Rancho Santa Margarita, CA (PRWEB) July 17, 2013
Making back to school easier than ever for fitness fans, Wexford University recently opened online registration for online fall classes in its bachelor's of health and fitness degree program at http://wexford.edu/degree-programs/bachelor-of-science-degree-in-health-and-fitness/. Classes in the flexible degree program begin Sept. 27.
"Wexford University is focused on excellent online education as well as convenience and flexibility. You don't have to worry about frenzied back-to-school shopping, parking or high tuition," said Jack Bauerle, Chancellor of Wexford University. "We are dedicated to offering affordable self-directed education for students pursuing higher education for the first time, those returning to school to earn a degree in a field they are more passionate about, and international students interested in earning their degrees in the United States without having to relocate. It's all about back to school made easier."
The Health and Fitness degree program was designed to prepare students for a career in the health, fitness or wellness industries. Careers can include wellness consultant, health club administrator, corporate wellness director, fitness/wellness entrepreneur and other related fields. Students advancing to a graduate degree or professional designation will find opportunities in a wide range of career choices, such as exercise scientist, sport psychologist, kinesiologist, health educator, clinical exercise physiologist, physical therapy and other related fields.
"Back to school can be a very busy time for individuals and families. At Wexford, we focus on making the application and registration process as well as the learning process more streamlined, so you can focus your time and energy on a career that you will love," Bauerle added.
Courses in the online bachelor's in health and fitness degree program include Kinesiology, Organic Chemistry and Biochemistry, Research Methods in Exercise Science, Introduction to Sport Psychology, Biomechanics, Advanced Nutrition, Concepts in Group Exercise, Ethics and Sport Management and more.
About Wexford University
Wexford University is dedicated to providing world-class education through cutting-edge technology, offering direct application degree programs in an accelerated format with 100 percent online learning to save time and money. Programs include an associate of arts degree in Fitness Training, bachelor's degree in Health and Fitness, master's degree in Nutrition and Exercise as well as master's degree and doctorate degree in Applied Sport Psychology. Wexford University is the higher education division of NESTA (National Exercise & Sports Trainers Association). For more information, please visit http://wexford.edu/.