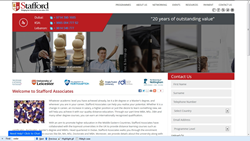 The next deadline for the University of Essex Online MBA, offered through Stafford in the Middle East, has been announced to be 3rd April, 2014
Dubai, UAE (PRWEB) April 03, 2014
The next deadline for the University of Essex Online MBA, offered through Stafford in the Middle East, has been announced to be 3rd April, 2014. Students can choose from specialisations such as Human Resource Management, Finance and Marketing. The programme, designed to help students develop the core competencies in business management, can be studied over an extended duration of 6 years.
The postgraduate qualification is meant for individuals who want to progress to executive and senior managerial positions. Pursuing the MBA helps students develop the personal and professional skills required to analyse challenges, think strategically and lead efficiently in business organisations. They get advanced knowledge in their chosen field and gain the skills to tackle complex problems.
An MBA in Marketing provides the pursuant with strong knowledge of the marketing development process. Skills they earn include resourcing and talent management, strategic marketing management, integrated marketing communications and marketing in a global age. They also hone communication skills, enabling them to obtain complex information in meaningful ways from a variety of audiences. The education also enhances their ability to develop brand strategy and identify the research requirements.
Specialisation in human resources trains students in implementing theoretical concepts, making them adept in a range of management disciplines. The modules incorporate practice-based learning using practice-based examples and work-based assignments that build students' knowledge level. Students become well-versed with resourcing and talent management, employee relations, organisational behaviour and management across cultures. An MBA in Finance assists students to gain modern management skills inculcating in them adherence to solid business practices. They understand how to manage budgets and the impact of financial performance on strategic decision making.
Eligibility requirements include an undergraduate degree from an approved institution or equivalent to a UK honours degree or an acceptable professional qualification along with 3-5 years of working experience in a related field. To prove English language proficiency, students need to pass an IELTS Test of 6.5 with 7.0 in writing OR a TOEFL Test of 250 (Computer)/600 (Paper)/90 (IBT). Here is more information for anyone searching for distance learning courses in the UK.
About Stafford
Stafford was formed in 1993 in Dubai to provide people in the Middle East region access to world class professional courses through distance learning. Online management training courses in Dubai enable students to climb the career ladder. The programmes help students gain critical skills needed to deal with challenges they would face in their career. Visit the site to get more info on distance learning MBA and other courses. Find out more here about MBA programmes in Dubai.
Contact Information
Stafford – Dubai
Block 6, F01, Dubai Knowledge Village, Dubai, UAE
Ph: +971 4 3901685
Fax: +971 4 3664574
Email: info(at)stafford(dot)ae
Website: http://www.stafford.ae/