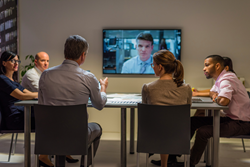 The market for online conference and collaboration tools has become diverse. When choosing you should not be blinded by the marketing promises of the manufacturer, but the take a detailed look at the solution.
Barcelona, Spain (PRWEB) September 15, 2016
Work is less and less connected to a location these days. Decentralized organizational teams and departments work over country borders and time zones together on projects, edit and share documents and files or make decisions using video or audio conferencing. Many online collaboration and conferencing solutions can be found to fit these needs. But, not every software does in practice what the flowery marketing promises, because value is not always added everywhere where the buzzword "collaboration" is used.
As a selection guide the web conference experts at Digital Samba (http://www.digitalsamba.com) put together six steps on how to Improve Online Collaboration and Conferencing.
1. The Basics: Picture and Audio Quality
Nothing can disturb a conference as much as a bad picture or audio quality. This point should therefore be of highest priority when choosing a tool. The video and audio transmittal should be as jerk-free and interference-free as possible – even when the participants are from different countries, with different connection qualities and dial in from different devices. Experience shows that conferencing solutions where the transmittal quality isn't convincing are not accepted by the users and after a short time are no longer used. Even very economic software then becomes an expensive bad investment.
2. Sharing: Making Content Available
Collaboration lives from sharing content with colleagues, superiors, partners or customers. Good collaboration solutions allow this comfortably and as simple as possible, for example over a whiteboard function for quick notes and drawings or through the support of all types of common files. It is also practical to have a screen sharing feature where the participants can present their computer screen without having to use extra remote desktop software.
3. Customizable Layout: Bringing the Relevant into Focus
Highly efficient collaboration tools with many functions and possibilities naturally tend to appear overloaded. But a computer screen which is too segmented inhibits concentrated work and can be confusing and distracting for the user. It is an advantage to be able to customize the screen – for example to expand the conferencing window which is currently needed and to move it to the foreground.
4. Individual Branding of the User Interface
Many companies prefer solutions which fit seamlessly into their already existing optical appearance. A conferencing tool which is customized with the individual user interface and is aligned with an integrated logo can be motivating especially for external employees outside of the headquarters. Instead of using a neutral generic third party solution, users have the feeling that they are working with "their" own company's business solution and that they are a part of the team – frequently this ensures a higher acceptance from the beginning.
5. User-friendliness is Trump
However not only the optics are important by the user interface, but also the actual usability. Often IT experts unwittingly expect too much from the end user. Even if the administrator can easily manage the software, does not necessarily mean that that is also the case for his or her colleagues who are in less technical departments in the company.
6. In-house or Cloud? A Question of Hosting
Cloud solutions offer a range of undeniable merits. But due to security reasons not every company is willing to operate important applications completely over external servers. Data leaks have made IT Managers and Executives careful. In this case collaboration tools are an advantage which allows operation within the company's network. In which case those responsible for IT solutions and CIO's retain the control and can significantly influence the performance. If the hosting should still be in the cloud, then the topics of server location (inside or outside the EU) and security features then play a role and should be examined carefully.
Robert Strobl, CMO from Digital Samba:
"The market for online conference and collaboration tools has become diverse. When choosing you should not be blinded by the marketing promises of the manufacturer, but the take a detailed look at the solution in regard to the individual and actual requirements. The most effective way is to have a dry run to test the software under real conditions."