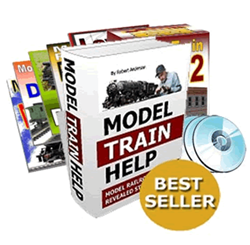 Build the model train layout of your dreams
Seattle, WA 9th May 2014 (PRWEB) May 09, 2014
Passionate model train enthusiasts spend hours designing and building their perfect model train layout but trawling the net for information on model train scenery ideas is frustrating and time consuming.
Robert Anderson is an expert model train railroader who has solved this dilemma by creating the Online Model Train Club. People can join up as members and get 24/7 access to hundreds of unique model train scenery ideas.
The Online Model Train Club has step-by-step tutorials in an easy to understand format. Members can read articles filled with handy photos, watch videos and even post comments and tips to help fellow enthusiasts on their journey to build the perfect model train layout.
There are hundreds of topics to learn about including: Tunnel Construction, Building Mountains, Track work, Cleaning Wheels on a Locomotive and What does a DCC System Include?
When members join, they get the following bonuses at no extra charge:
1. Model Train Scenery And Layout Construction Ideas E-book
2. Model Train Techniques E-book
3. Confessions Of A Mobile Layout Builder E-Book
4. 110 Handy Model Railroading Tips Clever Ideas E-Book
5. 4 Model Railroading Videos - mp4 format
In the first month of joining, members get access to Level 1 information, and the second month, Level 2 and so on. New information is always being added which makes the Online Model Train Club a growing library of clever tips and insider tricks to building professional model train scenery.
People can remain a member for as long as they like and can cancel at any time. Robert believes in giving customers value for money. He has thousands of satisfied customers worldwide and a reputation to protect so he offers a 100% money back guarantee if members genuinely believe the information is not worth the price. Members just have to let Robert know within 60 days.
Testimonials from model train enthusiasts state, "I'm glad you have the online club. I'm going to enjoy chatting with others and picking their brains!" and "Robert, trying to find all these great answers on the net would take me forever. It's good the way you grouped them together. It must have taken you months? Great job!"
Model Train enthusiasts from all over the world have climbed aboard the Online Model Train Club and are steaming ahead on their mission to build their dream model train layout.
To read the full review, visit the website or to learn more about the Online Model Train Club (which includes a tour of the site) [get direct access here.