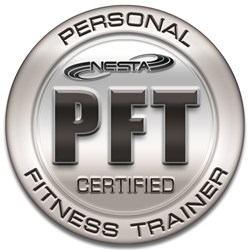 Fitness careers are lucrative and provide endless variety for jobs and entrepreneurship
Rancho Santa Margarita, CA (PRWEB) November 02, 2013
Personal trainers work with a lot of numbers: Pounds lifted or lost, body fat percentages and body mass index (BMI). They also have a lot of numbers behind them, supporting personal training as an excellent career path: Personal training positions are expected to grow by nearly 25 percent between 2010 and 2020, according to the Bureau of Labor Statistics, and nearly 60 percent of trainers say they never feel like they are stuck in a rut, according to insure4sport. To help support more people in finding a satisfying and successful career, the National Exercise & Sports Trainers Association (NESTA) offers an online Personal Fitness Trainer Certification program at http://www.nestacertified.com/personal-fitness-trainer-certification/.
"Some people follow the money and others follow their hearts when it comes to careers. Fortunately, when it comes to personal training, you can do both," said John Spencer Ellis, founder of NESTA and John Spencer Ellis Enterprises, a fitness and personal development solutions company. "NESTA is dedicated to providing effective and affordable online personal training certification that will allow you to make a difference in others' lives while making a great living at the same time."
The NESTA personal trainer certification has full National Board of Fitness Examiners (NBFE) affiliation status. It was also recently approved by the Commission on Dietetic Registration (CDR) as a CDR-approved certification. In addition, the online Personal Fitness Trainer Certification is valid for four years, rather than just two. NESTA also offers discounts for members of the U.S. military and veterans. NESTA is also a registered vendor for the U.S. Navy Credentialing Opportunities On-Line program.
Further, NESTA's certification program includes training on developing a personal training business, including marketing, business skills, social media outreach and more, supporting new and continuing trainers interested in launching their own business.
"As the temperatures drop and the days get a little shorter, more and more people choose to come inside for their workouts, often turning to personal trainers to help them work harder, achieve their goals, and change their bodies and their lives," Ellis added. "That's what this career path is all about."
About the National Exercise & Sports Trainers Association
Since 1992, the National Exercise & Sports Trainers Association (NESTA) has been a leader in innovative solutions for fitness, nutrition and wellness professionals, as well as club owners. Founded by John Spencer Ellis, NESTA now has more than 55,000 members in 55 countries, and it is one of the largest fitness associations in the world, as well as the fastest growing association of its kind in the United States. For more information on the NESTA Personal Fitness Trainer certification, please visit http://www.nestacertified.com/personal-fitness-trainer-certification/.