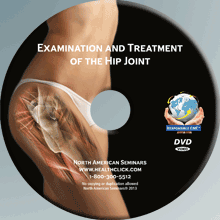 Examination and Treatment of the Hip Joint, a PT Online Continuing Education Course from Healthclick is approved for 10 hrs for PT & PTA's licensed in CA and NV.
Franklin, TN (PRWEB) July 15, 2014
Examination and Treatment of the Hip Joint is an online physical therapy continuing education course approved in California and Nevada for 10 hours. This PT online CME course provides detailed description of hip physical examination testing, including how to rule out other the lumbar spine and SI joint/pelvic girdle as potential pain generators. The DVD/Online and supplemental written material provide the clinician with great detail on how to perform examination of the hip joint, the tests to implement, what patients they should be performed on, what entails a positive (or negative test), and the diagnostic accuracy of such tests. Another great feature of this DVD and written material is the interventions shown and described. The clinician can clearly see how to perform manual therapy, stretching, and strengthening techniques as they apply to the hip pain patient. Detailed information regarding proper set-up, hand placement, technique, re-assessment, and EMG values (exercises) are given in order for the clinician to make informed decisions on which interventions are most clinically applicable in their various types of patients.
The objectives of the PT online Continuing education course are:
-Perform a Differential Diagnosis examination to rule out the Lumbar Spine, SI Joint and stress fractures when assessing for specific hip diagnosis.
-Understand the definitions of diagnostic accuracy when reviewing the efficacy of specific examination and treatment approaches in relation to the hip joint.
-Enhance examination skills by performing differential diagnostic tests to determine the underlying mechanisms of hip dysfunction and pain. Ruling out: poor alignment, hip intra-articular pathology, hip intra-articular/instability pathology, impingement labral tears, muscle dysfunction and gluteal tendinopathy.
-Perform appropriate joint mobilization techniques for the hip joint dysfunction.
-Develop evidence based rehabilitation programs for specific dysfunctions that are based on current scientific literature.
For more information and to view video sample of this course visit http://www.healthclick.com. All of our DVD and Online continuing education courses:
-Deliver medical content, medical illustrations, medical animations to PC, Mac, smartphone or tablet
-Provides continuing medical education online course credit for PT, PTA, OT, COTA licensing requirements
-Instant access upon purchases, a 70% or greater test course allows course certificate to be printed online.
-Online continuing education test can be taken as many times as need to achieve 70% or greater test score