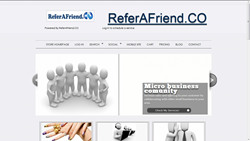 Our web-based software is just what they need - it is affordable, has multifunctional capabilities and is extremely easy to use.
San Jose, CA (PRWEB) July 03, 2014
ReferAFriend.CO has put on offer a sophisticated web based scheduling and appointment software solution. The software intends to help small and micro business grow their revenue by catering to a large number of customers. It is available for subscription at highly competitive prices. The software allows small and micro businesses to serve their customer base more efficiently and integrate offering with social networks. The software is the perfect solution for business owners keen on providing time based services to their clients.
A senior executive of the company behind the software stated, "Businesses often lack the system to handle their customers efficiently. This prevents them from becoming organized in their approach. Small businesses are often forced to cater to more customers without increasing their workforce or don't have the budget to put their system online. Our web-based software is just what they need - it is affordable, has multifunctional capabilities and is extremely easy to use. Additionally, since the software is used from a web browser, they don't need to worry about downloading and managing it. Moreover, their customers can access from any internet based device."
ReferAFriend.CO is designed to help businesses that provide time-based services to grow their number of clients. Facilitating appointments and task scheduling, the software is easy to use as well. It features tools like customer management, event scheduling, automated notification for upcoming events, ability to publish to social networking websites, lead generation, billing system, etc. The system supports invoicing and manages customers in better manner.
"Clients are the life and soul of any business. The importance of each client is even greater for small and micro businesses that have just started operations. Small business owners require a cost effective way to manage clients with maximum precision. ReferAFriend.CO provides exactly that. Our software is ideally suited to businesses like massage spas, clinics, therapists, Wellness Acupuncture Center, and salon owners. It features a large number of highly powerful and useful tools," further added the senior executive.
ReferAFriend.CO has been designed and developed in the capital of Silicon Valley by a Pilate's studio owner to help businesses manage clients without escalating the costs. The software solution is available in three different options, which differ according to the number of clients they manage. The integrated features and the affordable cost of the solution made it the best appointment scheduling software online.
About the Company:
ReferAFriend.CO is acclaimed web based software designed to help small businesses cater to a large number of clients with ease and precision. The scheduling and appointment software is easy to use and can be integrated with varied businesses and workflows. Designed for providers of time based services, a few examples are:
web scheduler software, salon software online, and scheduler software online.
Contact Details:
ReferAFriend.CO
San Jose, CA,
USA 95130
Phone: 18886599336
Email: CSR(at)ReferAFriend(dot)CO
Website: http://www.referafriend.co/