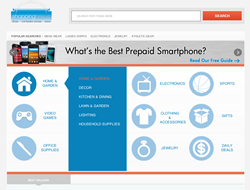 In 2012, over 1 million people used Shopping Nexus to find the best deals (online).
Odessa, TX (PRWEB) August 26, 2013
Online shopping comparison website, Shopping Nexus, is forecasting continued growth in the already bustling US eCommerce industry. To accommodate the growth, the website now offers a totally revamped user experience with the goal of further simplifying the price comparison process for consumers.
Shopping Nexus customers are able to take advantage of several new features and updates on the site, all aimed at streamlining the online shopping experience. The website instantly identifies the 'best price' on a given item by automatically comparing dozens of online retailers, meaning no work is required by the user. Shoppers can also use the "compare prices" feature to view all retailer offerings within a single window.
In addition to giving shoppers the ability to find great prices, the redesigned site also helps consumers compare products. Users can quickly compare multiple products within a product category, perform keyword searches, and review what others have purchased.
After undergoing a complete makeover, Shopping Nexus stands ready to provide users with an exceptional shopping experience. The site's new look and feel and enhanced navigation features make it easier to identify online deals. Social media integration allows users to instantly share products with friends and family via Facebook, Twitter, and Pinterest.
"2012 was a record year for Shopping Nexus," said Brian Meyer, President of Shopping Nexus. "We saw a significant uptick in consumers using the Internet to find the absolute best price. Price comparison tools like Shopping Nexus help consumers accomplish this goal. In today's competitive online retail space, you should never assume you're getting the best deal until you have compared multiple retailers."
About Shopping Nexus
Shopping Nexus is a leading online price comparison website. The site serves as a free resource to help consumers make each dollar go further. Shoppers around the globe trust Shopping Nexus as their alternative to traditional shopping malls. In 2012, over 1 million people used Shopping Nexus to find the best deals on electronics, apparel, toys, jewelry, and more. Shopping Nexus allows consumers to instantly compare products and find the best price. The company's proprietary system automatically identifies the best price on the web, even taking into consideration item cost and shipping.