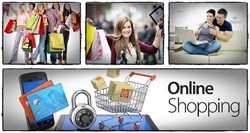 The article introduces to people simple yet unique online shopping tips that allow them to shop online safely with ease. Is it trustworthy?
Seattle, Wa (PRWEB) December 20, 2013
The new "13 online shopping tips" article on the site Vkool.com delivers a lot of ways to shop online safely. This article is really suitable for those people who love shopping and want to find the best deals online quickly. At the beginning of the article, people will learn how to identify secure websites. People should shop at a site that is reputable and trusted. The article indicates that the best way to find a reputable retailer is via recommendation from a trusted source. Online shoppers should not click on hyperlinks embedded in emails to avoid being redirected to a scam site. After that, the writer points out that online buyers should use a credit card because it is a safe payment method. "Always use a credit card when you purchase online, not a debit card. When you use a credit card, you will have a middle man in the transaction. And the money will not be removed from your account." says Hillary Mendelsohn, author of "the purplebook" online shopping series and founder of thepurplebook.com. Moreover, in the article, people will get to know ways to double check sellers' privacy policy and returns policy quickly and effectively. In this report, the author also recommends people to use effective and updated antivirus or antispyware software in order to shop safely.
In addition, this writing takes people step-by-step through a process of discovering how to get reduced prices and save money when shopping online. "Pre-load your shopping cart with items you are hoping to buy, in order to snap them up rapidly if they go on sale. Most websites will not empty your shopping cart if you are a registered user. So when they go on sale, you will be ready to go." says Kit Yarrow, Author of "Generation Buy". In other words, this post indicates that buyers should read the description of the product carefully and always print and keep a copy of the transaction. After this article was released, a large number of people can improve their understanding about online shopping and shop safely with a few simple steps.
Lien Pham from the site Vkool.com says that: "This "13 online shopping tips" article is actually informative and useful for most readers regardless of their age, their gender, and their shopping experience. Additionally, the report also supplies people with tips to set up an online shopping website and techniques to repair computers' errors. I personally believe that these tips will be useful for everyone."
If people want to get more detailed information from the full"13 online shopping tips" article, they should visit the website: http://vkool.com/online-shopping-tips/
______________
About the website: Vkool.com is the website developed by Tony Nguyen. The website provides people with ways, tips, programs, and e-books about different topics including fitness, health, business, entertainment, and lifestyle. People could send their feedback to Tony Nguyen on digital products through email.