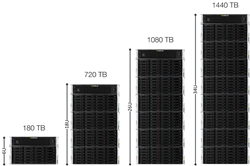 We've implemented key strategic partners into the various aspects of our value-chain.
(PRWEB) October 03, 2013
SIO.CO, provider of enterprise-level hardware and software solutions for SAN and NAS storage systems, announces enhanced integration with online storage hardware thanks to the help of strategic partnerships. The latest partners will provide both increased scale in hardware imaging and box testing as well as greater after sale support to existing and new customers.
"We were missing some key elements in our strategic value chain," says Stein Chu, VP of Support Engineering. "We needed partner resources to scale our array production as well as provide the necessary support after each sale has been made."
Unlike other enterprise, solutions SIO.CO works on maintaining a cost-sensitive approach for the SMB budget in online storage. For instance, along with our partners, we help to 1) decide on a storage appliance that fits your corporate needs, 2) integrate components, build, test and deliver the appliance to the data-center of your choice within the United States and Canada, 3) have the data center rack the server, turn it on and provide you and your clients direct access to it and 4) work with our data-center and software provider directly for tier 1 and tier 3 support respectively.
"We've helped to simplify our internal and strategic-partner value chain. This simplified process should help provide a more seamless customer experience while maintaining our focus on cost advantage over some of the enterprise solutions currently on the market," says Chu.
The appliances provided by SIO.CO are high performance enterprise grade SAN/NAS storage servers using both Linux-based and Quantastor Software Defined Storage platforms. Users are able to use a VPN to map them into a LAN to access them over CIFS & NFS or even iSCSI. Chu quips, "As our business continues to grow, we expect to continue to share the cost savings we've inherently built into our model with our customer-base."
About SIO.CO
Based in Bellevue, Washington SIO.CO (formerly online-storage.com) is a SAN & NAS provider of both hardware and software solutions for entry-level and enterprise storage solutions. They have provided software and hardware products to customers the world over. For more information on their solutions, please visit http://online-storage.com/