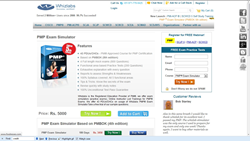 Whizlabs, world's leading training and e-Learning provider of Java and Project Management Certifications announces Pre-Launch of its Oracle Certified Associate Java Programmer Certification 7 Online Training.
New York (PRWEB) April 07, 2014
Whizlabs, has been contributing to the growth of the IT certification industry since 2000 through its Instructor Led Training and e-Learning courses. Now, complying with Oracle guidelines Whizlabs will be helping students to prepare for Certified Associate Java Programmer Certification 7 in a convenient and highly cost effective manner through the online videos based learning.
After making its mark in creating exam simulator for various versions of Sun Java Programmer Certification (like SCJP 6 and SCJP 5). Whizlabs will be adding another feather to its cap by bringing in the much awaited SCJA 7 Online Training (many people call it OCAJP 7/ OCAJ 7). This certification is launched by Oracle and is in high demand in the industry.
Aiming to help Java Professionals and analyzing a shift in the medium of studies from classroom to online mode, Whizlabs had been creating products that are highly accepted because of the ease which it brings to the user by its "Study Any Time Any Where" approach. These products have a high level, crisp and precise content which is authored by certified and experienced professionals.
Oracle Certified Java Associate Programmer Certification 7 Online Training will be offering full length interactive videos of all objectives, exercises, practice codes, 5 Full Length Mock Exams and Objective Test. 450+ unique thought-provoking SCJA 7 questions on the latest pattern in a simulated environment. This online training will be based on the current objectives rolled out by the Oracle University.
The online training's highly customized features allow preparing according to aspirants strengths and more important weaknesses. All the questions come with detailed answers that help in building concepts and concreting them.
The full version of Whizlabs OCAJP 7 Online Training covers 100% syllabus with all 8 exam objectives. This product comprises of tips and tricks which helps to know the secret of the exam. It is also backed with study notes that can help to revise quickly for the certification exam.
OCAJP 7 certification exam provides an authentic stamp that the Java programmer understands all the syntax and structure of the Java programming language and can create Java technology applications that run on server and desktop systems.
Attaining a Java certification program also ensures to become a valued employee in the eyes of the employer. This step takes one's career towards the right path and concretes one's future in the field of Java.
Anyone who's interested in becoming a certified Java Associate Programmer could take a SCJA 7 certification. Whizlabs SCJA 7 Online Training can be of great help in concreting the concepts for the certification exam.
Since October 2000, over 2 million users from organizations such as Cisco, Infosys, Accenture, RMSI, TCS, JP Morgan etc. have benefited through Whizlabs products and services ranging from Exam Simulators, Self Study Training and Online Instructor Led Trainings.
About Whizlabs
Whizlabs is world's premier PMP and Java Certification training company and is amongst the pioneer to launch Online Products and Training for IT and PMP Certification preparation.
With the mission of contributing to the growth of Project Management and IT Education industry, Whizlabs helps build and nurture software professionals by its online courses and hands-on Online Instructor Led Training for various Java and PMP certification. Visit http://www.whizlabs.com to find more about Whizlabs.