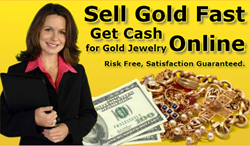 Being the fastest online gold buyer is only one of the unique benefits that NowGold.com offers their clients.
Orlando, FL. (PRWEB) August 29, 2013
"Sell gold online, get cash for gold tomorrow, Fastest gold buyer" is the title of the new YouTube video that explains why NowGold.com is the leading online scrap gold purchaser. The NowGold YouTube channel has been steadily growing with new video testimonials being added continuously.
"You can have money in your bank account tomorrow if you choose," states the video explaining why NowGold.com is the fastest online unwanted gold buyer. "People that are in need of fast cash rely on NowGold to provide them with the funds they need," a NowGold.com representative explains. "Many people contact us because they have fallen on hard times, have lost their jobs, or just need some quick cash and they have unwanted gold jewelry," the NowGold.com scrap gold representative continues. "It is a good way to get extra cash, and many times the jewelry people send is broken, or knotted chains that they have not been using for a long time."
"The NowGold.com Instant Pay option has simple shipping instructions, with a print out shipping label so there is no time delay," the video explains, "many other online sites that purchase gold will send you their kit. This takes a few days to receive the kit, then a few days to mail back the unwanted gold jewelry, that is what makes our simple and quick process so attractive to people that are looking for quick cash."
NowGold.com has been in business since 1988, with an A+ Better Business Bureau rating. Their decades of gold purchasing experience secure their leadership role in the online scrap gold buying industry. Visit the NowGold.com site for more informatin on their Instant Pay system, to collect cash fast. There are other unique benefits that NowGold offers for people looking to receive the most money for their unwanted gold, and deal with a reputable gold buyer.