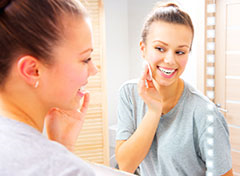 We're not done until you look great!
San Fancisco, California (PRWEB) April 28, 2015
Board certified dermatologist Dr. Deborah Goddard and Clear Skin Concierge have developed a new, online acne treatment system that provides exceptional diagnosis and treatment for acne sufferers using their specialized acne mapping technology. This online acne treatment system allows residents anywhere in the state of California with internet access to receive full-service acne treatment without the need to travel to a physical office. The online acne treatment service provides a more intense level of direct communication with a doctor, significantly faster treatment, and the convenience of managing acne from their home. Medications can even be shipped to the client's door, eliminating frustrating visits to a pharmacy.
Dr. Goddard explains, "I've always been passionate about making sure that patients not only get a treatment, but get better. I've refined Clear Skin Concierge's unique, personalized system to deliver safe, effective improvements in acne and aging skin."
The benefits of the Clear Skin Concierge service are many including:
--The same acne prescription medications received at a physical clinic
--Savings of time and money spent visiting a physical dermatologist and waiting for an appointment
--Direct access to the dermatologist and a guaranteed response within 48 business hours
--Acne medications shipped directly to your door
About Clear Skin Concierge: Clear Skin Concierge is a revolutionary way for patients with acne to consult with a board-certified physician. There is no longer a need to drive across town, find parking, or step foot in a doctor's office. If you still have questions, Clear Skin Concierge would be happy to answer them. Visit their website for an overview of how this online acne prescription system works, get answers to the most commonly asked questions or contact them for more information. If you are ready for a better way to treat your acne, start today by completing their online patient profile.