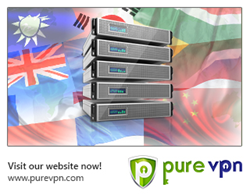 Internet Freedom is our universal RIGHT and we will take it back.
Hong Kong (PRWEB UK) 27 March 2014
Dedicated to complete and utmost online freedom, PureVPN has expanded its global VPN network in 9 new countries. PureVPN users can now connect to 40,000+ IPs, 300+ servers in 35 countries and get total internet freedom, as they need.
Internet censorship and geo-restriction has reached a new extreme of blocking and restricting access to the internet. As more internet users seek online security and freedom, PureVPN, the world's leading VPN service provider, is growing its geographically vast network exponentially. And, to fulfill the demand of a huge clientele, PureVPN has expanded its VPN network from 26 countries to 35 countries within 3 months. All recently added servers to support PPTP, L2TP, SSTP and OpenVPN protocols.
The Founder of PureVPN, Mr. Uzair Gadit said:
"Expanding to newer countries was essential because an increasing number of Internet users are searching for ways to use the internet without restrictions."
In the online world, the future of internet freedom has never been as significant as it is today. As Mr. Uzair Gadit said:
"New censorships and restrictions are reported almost daily. Freedom of speech has been caged in many countries. Internet users are left with no freedom of thoughts and actions on the internet. Most importantly expats and travelers around the world are severely affected due to online censorship and surveillance".
Relating the worst condition of censorship with the success story of launching VPN servers in 9 new countries, Mr. Gadit said:
"Expanding to newer countries aims to increase the availability of freedom to PureVPN users. With these new regions, PureVPN is bringing home a large volume of constantly changing IPs that guarantee maximum freedom on the Internet."
Apparently, this is not all from PureVPN's success stories. There's a lot more to come, as Mr. Uzair Gadit said:
"PureVPN's highly talented engineers have optimized dedicated streaming servers that can boost users streaming speed up to 20Mbps; this additional feature will add up more fun for users to relish with complete online freedom."
PureVPN always had and will always have an edge over its competitors. PureVPN is consistent in offering and delivering increasingly secure and dynamic services with prominent characteristics. Along with 40,000+ IPs and over 300+ servers in 35 countries, it provides well-equipped, easy-to-use VPN software, 5 multi-logins, and additional online security features like Internet Kill Switch and NAT firewall. PureVPN has and always will continue to offer the most innovative and trendier technologies with its service features. Users need to sit tight because PureVPN has much more to offer in near future.
About PureVPN:
PureVPN is a global online security and freedom activist. PureVPN has dedicated its services to provide the best VPN service for complete internet security and maximum freedom. PureVPN owns and operates more than 300 servers in 35 different countries. The company owns and manages 100% of its own servers, hardware and network to deliver the highest levels of VPN service at all times.