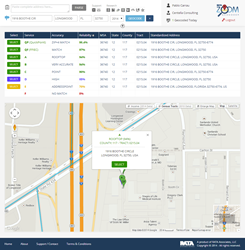 ...institutions can raise overall geocoding precision from 90% to upwards of 99%.
Longwood, Florida (PRWEB) March 11, 2014
RATA Associates, LLC, an industry-leading provider of cost-effective Home Mortgage Disclosure Act (HMDA), Community Reinvestment Act (CRA), and Fair Lending compliance software and geocoding services for financial institutions, announced today the availability of its ZOOM Geocoder. The ZOOM Geocoder will help lenders more efficiently geocode hard-to-find addresses for HMDA/CRA data while cutting costs and resources. With the recent tightening of accuracy requirements by the CFPB and other regulatory agencies, institutions must get HMDA and CRA data more accurate than ever. Having just a couple of unexplained errors could lead to a re-submission and/or civil money penalties.
Based on the latest internet technologies, the ZOOM Geocoder combines many of the best available internet geocoders and mapping products to bring all relevant results together on a single map. This helps institutions get accurate geocodes for addresses that none of the commercially-available geocoders could find. Every institution has a geocoder to do the bulk of the work and those geocoders can hit upwards of 90% of the addresses processed to very high precision levels. The problem lies with the last 10% of the addresses that can't be matched by the commercial geocoders, either because they are poorly formatted or just too new to be recognized.
"Until now both large- and small-volume institutions have had to rely on fall back geocoding methods for these "no-hits", which have larger than desired error rates associated with them," said Angela Strater, Vice President at RATA. "Geocoding to the smallest known component of the address was the only way to geocode these addresses, which meant geocoding to the center of ZIP+2 (which has an error rate of 31%) or in worse-case scenarios to the center of the 5 digit ZIP Code (66% error rate)". Although these methods have been widely used and were the best that could be done until now, these are the results that cause the biggest problems. When examiners get different results during examinations, it is because they come into the bank a year or two later after address data databases have been updated. The geocoders can then hit the addresses accurately, so the 31% of ZIP+2 and 66% of 5 digit ZIPs become exposed.
Now with the RATA ZOOM Geocoder, institutions can cost-effectively review each of these addresses and find 100% accurate results for over 85% of them in about 30 seconds (per address). Institutions simply go to the http://www.zoomgeocoder.com website and key in the address. The address is processed by more than seven of the best and most up-to-date data sources available. The user can then zoom in to the different results and determine exactly where the address is and what the exact Census Tract should be. It is simple to use and costs pennies per record.
There is no such thing as a 100% accurately geocoded file; there are tiny error rates associated with every process and geocoder that is on the market. By adding the ZOOM geocoder to the geocoding process, institutions can raise overall geocoding precision from 90% to upwards of 99%. On a regulatory exam of an institution with a volume of 10,000 applications, that translates to only 100 errors versus 1000 errors. The examiners say you need to take reasonable steps to ensure accuracy and the RATA ZOOM Geocoder goes well above that!
RATA Associates is also offering the ZOOM Geocoder to all regulatory agencies and examiners at no charge. There is an option directly on the site that lets the examiners sign up for FREE accounts. The examiners typically use the FFIEC geocoder as their validation tool, but the ZOOM geocoder can typically find 80% of the addresses that the FFIEC can't. RATA is offering ZOOM to them at no charge as part of our ongoing effort to help get the industry data as accurate as possible.
"For more than 26 years, RATA has pioneered HMDA and CRA compliance software, developing some of the industry's most technologically-advanced software," said John R. Woloshen, Chief Executive Officer of RATA. "RATA continues to innovate as we strive to improve compliance software. With the availability of our new ZOOM Geocoder, finding the correct Census Tract for difficult addresses is now possible and cost-effective for lending institutions. We look forward to helping all institutions achieve compliance-grade geocoding results."
About RATA Associates
Founded in 1987, RATA Associates is an industry-leading provider of data compliance software and services for financial institutions. Built on .NET technology, RATA's Comply Suite software is the industry's most modern software and geocoding solution, enabling financial institutions of all sizes to remain compliant with the Home Mortgage Disclosure Act (HMDA), Community Reinvestment Act (CRA) and Fair Lending requirements, efficiently and economically. Since 1990, RATA has helped more than 1,000 financial institutions successfully submit HMDA/CRA data each year. For more information, please visit http://www.rataassociates.com.