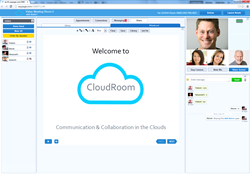 We have now extended Saypage to better cater for asynchronous, off-line communication and the ability to broadcast out to a viewing audience.
London, United Kingdom (PRWEB UK) 30 September 2013
Now, Saypage users are able to create an online meeting room that combines live voice and video conferencing, messaging and sharing, with enhanced presenter capabilities and screen layout options. Utilizing a combination of WebRTC, Adobe Flash and HTML5, depending on browser or mobile device, recent advances include enhanced sharing and collaboration together with providing hosts with more control over events.
The new Saypage meeting room is a cost-effective alternative to Adobe Connect that unlike Connect works in all web browsers with no download of software required for hosts or participants. Saypage hopes to attract new partners by enabling them to re-brand, customize and embed the user interface within existing websites and apps.
In addition to existing file sharing capabilities, new collaboration tools include the ability to co-view powerpoint presentations, where original animations and transition effects are retained, and where slide playout is controlled by the presenter, HD screensharing and the ability to locally save images that have been annotated in the virtual whiteboard. Presenters are now able to choose between voice-activated control of active speaker display or manual selection. Equally they are able to control the overall layout of participant video streams and who is to be seen and heard.
Business Development Director, Marek Zwiefka-Sibley says, "An increasing number of customers were starting to ask for webinar-type facilities. Up until recently all Saypage communication was based very much around interactivity and the idea of live, synchronous communication. Whilst that remains at the core, we have now extended Saypage to better cater for asynchronous, off-line communication and the ability to broadcast out to a viewing audience." Adding that the way Saypage has been architected means that all new features will be available in their branded iOS and Android apps as well as regular websites.
One of the most challenging aspects of the enhancement has been to seamlessly convert regular powerpoint presentations into HTML5 and make them available in a shared meeting room environment where all participants are in sync with one another regardless of when they join, even keeping them up-to-date if they leave the meeting and rejoin later on. Use of available space has also been optimised together with ease-of-use.
Mixing of the new super wideband Opus codec in WebRTC also means a noticeable improvement in audio quality without an increased bandwidth overhead.
For a live demonstration of a Saypage Extended Meeting Room in operation please contact us.
For press material please go here: http://www.saypage.com/press.jsp
About Saypage: Saypage is a Video Consultations and Distance Learning Platform that enables businesses to rapidly deploy branded communications portals with integrated billing, reporting, recording, collaboration and scheduling facilities. With expertise in high-definition video conferencing, Saypage services can be accessed seamlessly on smartphones, tablets and in web browsers without the need for additional downloads or plugins. Saypage is headquartered in London, England and provides global support and service.