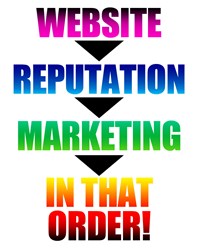 Website > Reputation > Marketing = IN THAT ORDER!
Sparks, Nevada (PRWEB) January 31, 2014
Online Reputation Management is at the heart of a three-part process to bring in new customers to a business. Although Internet marketing itself is vital to any business' online reputation, their website design must be able to convert visitors to customers by leading them through the proper steps to a sale. This must all be complete prior to any online marketing attempts.
This is where the 5 Star Max approach comes in toward a better online reputation and customer acquisition.
Studies report that 79% of customers research a company before purchasing a product or service. A business' website needs to found on search engines like Google. That website must be easily navigable by consumers to find the information they are looking for. The company must also show a great reputation regarding people's prior experience with them. A company's positive reputation must be prominently displayed, not only on their website but also all over the Internet to improve their online presence. Once these two requirements are in place, a targeted marketing strategy may be developed and implemented by the business to bring in more customers.
It is imperative that businesses follow this process: Website> Reputation> Marketing: In That Order! Any change in that plan will result in failure of conversions and loss of potential customers. Why spend money on marketing only to have people find negative reviews about the business? They will go elsewhere and that means the marketing money was wasted.
Experts estimate that over 80% of people are adversely affected by negative reviews, making businesses with even one negative comment vulnerable to customer loss and profit loss. A company's online reputation must come before marketing efforts in order to make an impact. Individuals who are interested in learning more about this concept and 5 Star Max Reputation Management Program can find out more by visiting the company's website: http://www.5starmax.com.
About the Company:
The WebSmith Group, a company that specializes in Internet marketing using a unique three-part strategy, sets up the 5 Star Max Reputation Management Program. The business consists of a team of experts in various marketing, technology and business fields who possess decades of experience between them. The company has also pioneered the 5 Star Max system that targets, troubleshoots, and repairs damage caused by negative online reviews, and aids businesses in securing positive reputations. Call them at 800-766-0059 today.