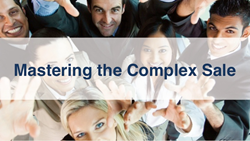 Fortune 500 sales training now available to all sales reps and companies - online.
Scottsdale, AZ (PRWEB) July 31, 2014
Sales Horizons, a leader in sales training, today announces the availability of its online sales training course – Mastering the Complex Sale – to help salespeople improve their sales performance.
Drawn from proven sales training programs used by thousands of salespeople in Fortune 500 companies, Mastering the Complex Sale online sales training course is available to every salesperson as well as to anyone who has face-to-face contact with customers, like technical support, engineers, clinical support, and IT staff. Since the courses are online, they are available to access anytime, anywhere.
The online sales training course is designed for any salesperson who is new to sales, new to selling to complex accounts, or has been selling to complex accounts and just wants to update their skills – regardless of the industry into which they are selling. The focus is on developing those sales skills salespeople can apply immediately to win more business. "We learned from the very best what it takes to win business and have translated those skills and insights into Mastering the Complex Sale," said Janet Spirer, co-founder of Sales Horizons.
Mastering the Complex Sale is divided into 17 lectures plus a closing video:

Networking
Establishing Credibility
Handling Objections
Call Planning
Opening Calls
Closing Calls
Selling Value
Active Listening
Asking Questions
Positioning Solutions
Post-Call Planning
Team Selling
Using Social Media
Storytelling
Richard Ruff, co-founder of Sales Horizons said, "By placing Sales Horizons sales training programs with the Fortune 500 on Udemy's online training system, salespeople can access the same sales training offered to market-leading companies online – effectively, efficiently, and affordably."
To learn more and register for Mastering the Complex Sales, click here.
___________________
About Sales Horizons. Sales Horizons offers a new generation of online sales training built for today's disruptive business environment. The purpose of starting Sales Horizons was to transfer the experiences learned from managing sales training projects for Fortune 500 companies like Xerox, Apple, GE, Smith & Nephew, UPS, Canon, and Microsoft into a set of bet practices that could be delivered to anyone, anyplace, anytime.
Contact Janet Spirer, Ph.D.
Principal, Sales Horizons
9280 E. Thompson Peak Parkway - Suite 36
Scottsdale, AZ 85255
Tel: 480-513-0900
janet(at)saleshorizons(dot)com
Web: http://www.saleshorizons.com
Blog: http://www.salestrainingconnection.com