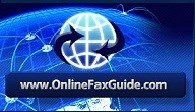 Anyone can save time and money by utilizing our handy online fax guide before choosing your fax service or provider.
(PRWEB) October 15, 2013
This year marks the 7th anniversary of the OnlineFaxGuide.com site, a comprehensive guide to online fax services and providers. The fax site offers a handy comparison chart of the most popular online fax services and their prices. It also offers a convenient fax guide which can be downloaded at no extra cost by potential customers or clients of these services.
For many individuals and small businesses, using a web-based or online fax server to send and receive all one's faxes, can be a much cheaper alternative to the traditional fax machine in the office. The rates are better and since this is a paperless system the operating costs are much lower.
Online fax is often referred to as a "cloud" service since one's faxing is hosted on a remote third party provider. Since this kind of fax service uses the web and one's email program - it is completely portable, any mobile device such as a netbook, laptop or smart phone can be used as a virtual fax machine.
However, like any relatively new service, many potential users simply don't understand how it works or the benefits of using such a service. That's where sites like OnlineFaxGuide can play a vital role - offering videos, slideshows and informative information on the basics of using an Internet fax provider. It also covers broader services such as Virtual PBX systems which are well-suited for small businesses and/or home offices.
In addition to this helpful information, the site also lists the latest discounts and promotions by the major providers such as MyFax, eFax®, MetroFax, TrustFax, RapidFax, RingCentral, Faxage, Nextiva Fax... among others. Potential or future customers can use these discounts to save money, especially when one considers this is usually a long-term service, and the savings can be significant.
About Us:
OnlineFaxGuide.com was founded in 2006 and has helped thousands of visitors find the right Internet fax service for their needs. The comprehensive authority site on Internet faxing contains videos, slideshows, comparison charts and a very helpful guide which visitors can download for free here: http://www.onlinefaxguide.com Follow us on Twitter @onlinefax All products/companies mentioned above are registered trademarks of their respective owners and companies.