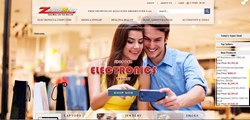 We're going to provide our customers with the kind of service that's all too often missing in the online arena.
New York, NY (PRWEB) January 14, 2014
As the ball dropped signaling the start of 2014, the folks behind ZenithMart were busy making a few resolutions of their own. The new online electronics and general merchandise retailer is out to take the Internet by storm. It plans to do so one customer at a time, earning loyalty by delivering quality products at highly competitive prices while ensuring service is always stellar.
"We're out to make 2014 the year of the customer," explained Tochukwu Mbiamnozie, the founder, president and CEO of ZenithMart, Inc. Although the company was founded in 2012, its online retail outlet didn't go live until late 2013, after much research and planning to ensure its debut positioned ZenithMart to offer consumers a winning alternative to other online retail outlets.
"As this new year gets under way, we'd like to wish everyone a safe and happy 2014," Mbiamnozie said. "We're especially excited to welcome 2014 since it will be our first full year online, providing us the opportunity to serve customers around the world while enabling them to experience the ZenithMart difference."
Consumers in the market for electronics, computers, laptops, cameras, household goods, jewelry and more will find that ZenithMart has the products they demand at prices that are set to please. The company offers consumers more than trusted, brand name goods at competitive prices, Tochukwu Mbiamnozie pointed out.
"We're going to provide our customers with the kind of service that's all too often missing in the online arena," he said. "While the average retailer is out to make fast cash through Internet sales, ZenithMart distinguishes itself by seeking to build lasting relationships with customers: relationships that are built on trust."
When ZenithMart was established, its founders focused on several main principles to set the new store apart from others. Chief among those principles are customer service, quality product selection and security. By employing a customer-first philosophy in everything it does, ZenithMart earns loyalty and trust one delighted consumer at a time.
While electronics and computers are the mainstay in ZenithMart's online showroom, consumers will also discover the store features items in a number of other high-demand categories. From automotive and tools to jewelry and shoes, its ever-growing product line features only those products that have been proven to deliver in the quality department. Brand names such as Apple, Samsung and Hewlett-Packard can all be found there.
"As we welcome this brand new year, ZenithMart declares 2014 the year of the customer," Mbiamnozie said. "Just pay a visit to our store to experience first-hand what sets ZenithMart, its products and service apart from the rest."
About ZenithMart
New York-based ZenithMart is a one-stop-shop for office, household and personal merchandise. Founded in April 2012, ZenithMart strongly believes in delivering high-quality products, competitive prices and unparalleled customer support. Creating a seamless and convenient method of shopping, ZenithMart has grown by leaps and bounds since its inception. Its mission is to provide consumers with the kind of quality and service that earns trust and loyalty. For more information, or to being shopping, visit http://www.zenithmart.us.