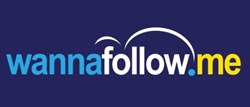 The redesign is something we've wanted to do for a while now. It's much easier to navigate and has the 'wow' factor we were looking for. Most importantly it makes the user experience better which is always our end goal
Tampa, FL (PRWEB) December 24, 2013
Personal branding online forum, WannaFollow.Me, debuts redesigned splash site with enhanced user-friendly features. The new site is designed to streamline internet branding for all. With WannaFollow.Me users can create a free splash page with their individual information.
The new WannaFollow.Me offers detailed SEO benefits for individual pages, more custom fields for personalizing pages, a real-time social feed from Facebook, and the ability to have a background to your splash page be a slide show. In January, the site will have the capabilities of having video backgrounds as well as the Twitter real-time social feed. Users will also be able to connect any of their social media accounts to their personal pages including: Flickr, YouTube, and Google+ to name a few. All WannaFollow.Me pages are mobile compatible making accessing pages extremely convenient.
"The redesign is something we've wanted to do for a while now. It's much easier to navigate and has the 'wow' factor we were looking for. Most importantly it makes the user experience better which is always our end goal", says Roger Safont, CEO of WannaFollow.Me.
WannaFollow.Me gives individuals the opportunity to express themselves through various free writing sections. Profiles may include unlimited photos coupled with the capability to include any existing social media on main profiles. WannaFollow.Me maintains high levels of privacy and integrity for its users. All communication between members happens through an "anonymous" email network. The names and contact information of all members are kept confidential until the member personally decides to share the information with a potential match. To help ensure the integrity of the WannaFollow.Me community, every profile and photo is screened by the WannaFollow.Me customer care team for appropriateness as it is posted to the site.
About WannaFollow.Me:
Headquartered in Tampa, FL, leading profile engine, WannaFollow.Me, is an operating business of WannaFollow, LLC. The company mission is simple: to help individuals and businesses create an online presence and market themselves. WannaFollow.ME plans to launch their profile engine in the UK and Austria by Feb 1. To learn more please visit WannaFollow.Me.