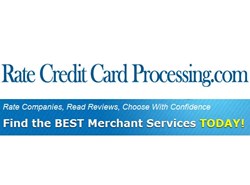 Read reviews from real customers, get the skinny on which company will best meet your needs...
Fort Lauderdale, FL (PRWEB) November 13, 2013
Advertisements have the ability to completely blend into a website's content and become a source of bias and confusion among visitors seeking genuine first-hand information on the merchant they are interested in. To avoid this from becoming an issue on the website, Ratecreditcardprocessing.com has announced it will not receive any paid onsite advertisement displays from any credit card processor on its website.
Greg Wong of RateCreditCardProcessing.com issued the following statement: "To avoid being unduly influenced by any particular credit card processing company, we have decided to not accept display advertising on our RateCreditCardProcessing.com website."
According to the site, the decision to not display banner ads means no merchant account company will be able to leverage their ad spending to have negative customer reviews removed.
Although paid banner advertisements will no longer be accepted, RateCreditCardProcessing.com does use referral links to companies where applicable, if a particular reviewed merchant has a referral program.
"The straightforward advertising policy is intended to maintain the integrity of our comparisons," added Mr. Wong saying, "We will also continue to allow visitors to review any credit card processing company, whether they have a referral program or not."
To learn more about RateCreditCardProcessing.com or to read reviews of popular payment processing services, visit http://www.ratecreditcardprocessing.com.
About RateCreditCardProcessing.com
Ratecreditcardprocessing.com believes that accurate research is the best way for businesses to choose a credit card processor, and proper research begins with what actual customers are saying.
That's why all of the company's reviews are submitted by visitors and are ordered solely by customer rating and the company does not accept advertising. To find out at a glance which transaction processors ranking best among consumers, visit today: http://www.ratecreditcardprocessing.com