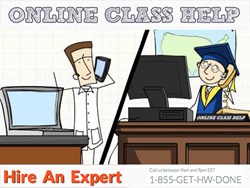 We have a 99% success rate helping students get a 3.0 or higher in any class.
New York, NY (PRWEB) September 18, 2013
Online Class Help, the class-taking service for successful adult students, proudly announced new class coverage for the Fall 2013 semester. Online Class Help is a US-based company that gets students a 3.0 or higher in any class, by either helping or taking any assignment for them. The service now offers a more comprehensive range of courses, prerequisite specials, Graduate-level exams, and a "crunch-time" program for last-minute homework help, projects, essays and tests.
"So many students are forced to take subjects that have nothing to do with their chosen future careers," said Mark Davis, spokesperson for Online Class Help. "Working students no longer need to sacrifice valuable time they simply do not have; they now have the freedom to spend extra hours on their major, or networking, or at work. Our goal is to help them meet career goals with no stress and a higher GPA."
For over 5 years, students have come to Online Class Help for a guaranteed A or B from a subject matter expert. On or offline, adult students, working and student parents are just some who ask, "Can you please take my class?" Online Class Help completes each class with the highest grade possible.
Online Class Help has helped thousands of students from nationwide universities to online programs achieve As and Bs in English, Math, Government, Business, Sciences, History, as well as Nursing, Management and International programs. Foreign language services include Spanish, French and Russian, and expanded professional writing assistance. Also, Graduate-level courses are now covered, as well as last-minute homework, essays and project coverage on a case-by-case basis. For Math-related courses, Online Class Help offers discounted pricing. To find out more about current promotions, call 1(855)GET-HW-DONE, or email sales(at)onlineclasshelp(dot)com with code FALL2013.
All services are backed with a grade-based guarantee. Experts earn students an A or B, or they get their money back.
"Grades do not just impact a student's ability to graduate. Just one bad grade can drop a student's GPA from an A to a C, or worse. This does not just affect their ability to graduate on time, but their ability to be hired," commented Davis. "We have a 99% success rate helping students get a 3.0 or higher in any class. It has become our mission to help students do more than just pass, by helping build a successful future."
Can you write my essay? Do my homework? Take my exam? Take my online class? Ask a professional.
Online Class Help is the GPA-guaranteed, full-course and last-minute assignment taking service that answers these questions with a simple, "Yes." The security of a domestic company, experienced with widely-known accredited and online institutions keeps literally thousands of students returning for a guaranteed better grade. Call 1(855) GET-HW-DONE, email sales(at)onlineclasshelp(dot)com, or sign up to speak to a real, live native English-speaker about what's due. Like us on Facebook to win prizes and view current promotions.
OnlineClassHelp.com. Because Fido can't eat your eHomework.