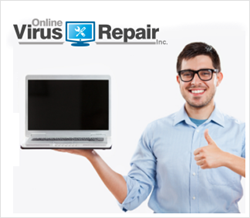 The Zeus Trojan Virus is extremely malicious, and can be undetected by anti-virus. Infected users are urged to seek professional help immediately.
San Luis Obispo, CA (PRWEB) July 17, 2013
Cyber-criminals have unleashed a new variation of the dreaded Zeus Banking Trojan which spreads via Facebook, stealing personal information. The new virus poses a serious threat because of its ability to infect computers, sneaking by even the latest anti-virus software, in an attempt to steal bank login information and other confidential information that might be stored on the victim's computer. As reported by Fox News on June 6, 2013, the Zeus virus was originally discovered in February, but continues to infect computers into July, due to its ability to spread via infected Facebook links and pages.
Dan Steiner, Malware Expert from Online Virus Repair Inc. says "The new variation of this particular virus is extremely dangerous to consumers and businesses, simply because it poses a risk of stealing money, identity information, and other personal information."
The virus removal team at Online Virus Repair Inc. have employed a quick process to quickly check for malicious software, such as the Zeus trojan virus. The new process allows computer users to connect with a US-based expert, who can then quickly check out the computer in question via state-of-the-art remote software. The service can take as little as 15 minutes and is offered at no charge. This gives people a great alternative option to having to lug a computer down to the local computer shop, where expensive fees can quickly ensue, and turn-around time is questionable.
Steiner continues to say "We've caught a few unsuspecting clients with the Zeus virus. We were able to quickly clean the computers up and advised those clients to take appropriate action."
About Online Virus Repair Inc.
Online Virus Repair Inc. is a US-based company specializing in computer cleanups for individual computer users and businesses. The company was founded in 2012 by Dan Steiner and is headquartered in San Luis Obispo, CA. Customers with infected machines can call or chat with experts to have viruses/malware/spyware removed remotely without the hassle of taking their computer "into the shop." Technicians are able to remotely remove threats even without the client being at their computer; often in 30 minutes or less.
To learn more about Online Virus Repair Inc. visit their website at http://www.onlinevirusrepair.com