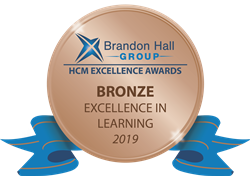 "The Onshape Learning Center is not only a critical part of our company's growth, but of our customers' growth as well." – Jake Ramsley, Onshape's Director of QA, Training and Documentation.
CAMBRIDGE, Mass. (PRWEB) September 10, 2019
Onshape, the leading cloud product development platform for design and manufacturing teams, has won a bronze Human Capital Management (HCM) Excellence Award from the Brandon Hall Group for its innovative online Learning Center. The award recognizes Onshape, and training software partner Thought Industries, for rapidly scaling its customer training program from "dozens to thousands."
The Onshape Learning Center provides product development teams with live instructor-led training classes, self-paced online courses, high-level technical briefings and instructional videos about best practices in CAD and data management. It also educates customers about Onshape's unique approach to release management, direct editing, configurations, sheet metal, in-context assemblies, and top-down design that they won't find in any other product development platform.
Brandon Hall Group's HCM Excellence in Learning Awards recognize organizations that have successfully deployed programs, strategies, modalities, processes, systems and tools that achieved significant and measurable results. This year's customer education winners include Deloitte, Bank of America, Lockheed Martin, Royal Dutch Shell, PepsiCo, Bridgestone, BASF, Boston Scientific, Red Hat, Medtronic, and Dell Technologies. A complete list of the 2019 "Excellence in Learning" awards is available here.
"Onshape encourages a learn-by-doing approach and is proud of our training outreach to new and longtime customers alike," says Jake Ramsley, Onshape's Director of QA, Training and Documentation. "So it's an honor to see our commitment be recognized by the Brandon Hall Group. The Onshape Learning Center is not only a critical part of our company's growth, but of our customers' growth as well."
"We're proud to partner with Onshape and watch how they continue to innovate and put their customer education and learner experience first," says Mike Daecher, Chief Marketing Officer of Thought Industries. "Onshape's commitment to scaling their customer training – and the positive impact it has had on their business – has been incredibly gratifying to see."
Carbon, the world's leading digital manufacturing company, is now using the Onshape Learning Center for training its application engineers to help customers create innovative product designs.
"I believe there are a lot of advantages to self-paced learning and learning by doing," says Beth Bernhardt, Manager of Curriculum Development at Carbon. "I appreciate the Onshape Learning Center's straight-forward and video-based approach. The courses are extremely easy to follow."
"I also was so impressed by how Onshape's training was set up that we decided to use the same LMS tool at Carbon," she adds. "The Thought Industries platform interface is very professional, providing custom branding and other tools that make it an ideal corporate learning and training platform."
According to Onshape Training Manager Katie Huffman, the Learning Center will continue to expand its course offerings based on customer priorities.
"We have four new fundamental learning courses coming out this fall for less experienced CAD users," she says. "And we're also developing three new advanced courses on surfacing techniques. We strive to help customers at all stages of their professional development."
--
About Onshape
Onshape is a next-generation cloud design platform that speeds up product development. It's an all-in-one system that combines CAD, release management, workflow, collaboration, analytics, admin tools, and an API with more than 50 engineering applications. Onshape helps extended design teams work together faster and helps executives make better business decisions with real-time analytics and unprecedented visibility into their company's design and manufacturing processes.
Thousands of companies rely on Onshape to modernize and streamline their product development cycle. Onshape users in 170+ countries have logged over 8 million hours modeling advanced robotics, biomedical devices, industrial machinery, agriculture equipment, and consumer products. With 1 in 8 sessions occurring on mobile devices, Onshape is the world's first anywhere, anytime product development platform.
Founded in 2012, Onshape has raised $169 million from Andreessen Horowitz, NEA, North Bridge, and other leading investors. Based in Cambridge, Massachusetts, the Onshape leadership team includes the original creators of SOLIDWORKS® and other proven leaders in cloud infrastructure, data security, and mobile. For more information, contact dgarnick@onshape.com or visit https://www.onshape.com/press-room.
--
About Thought Industries
Thought Industries powers the business of learning with our industry-leading learning technology. The company was founded in 2014 around the core belief that online learning experiences should be modern, intuitive, engaging, and scalable. Today, our growing team builds and maintains the only learning solution with completely native tools and integrations that drive higher engagement, learner proficiency, and retention rates for our customers. For more information, visit https://www.thoughtindustries.com/
--
About Brandon Hall Group
Brandon Hall Group is an HCM research and advisory services firm that provides insights around key performance areas, including Learning and Development, Talent Management, Leadership Development, Talent Acquisition, and HR/Workforce Management.
With more than 10,000 clients globally and 25 years of delivering world-class research and advisory services, Brandon Hall Group is focused on developing research that drives performance in emerging and large organizations, and provides strategic insights for executives and practitioners responsible for growth and business results. For more information, visit https://www.brandonhall.com/excellenceawards/