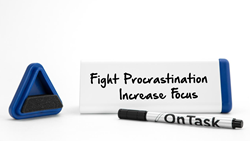 OnTask forces me and my team to identify and focus on what's most important so that we end each day with a list of completed priorities
Chicago, IL (PRWEB) February 15, 2017
CurvGroup is excited to announce that its one-of-a-kind productivity booster, the OnTask, is now available on Kickstarter. The OnTask is a three-sided desktop whiteboard that is strategically designed to help you prioritize and complete your most important daily tasks. Introductory pricing is now available for the first shipment expected in April 2017.
Curvgroup, the company behind the successful KeySmart Kickstarter, created OnTask to increase productivity by making task lists more manageable. Research shows that work overload and stress leads to less productivity and a decrease in engagement (Cornerstone, 2014. Global Benefits Attitude Survey, 2014.) The OnTask was built on the premise that long task lists make people feel stressed and overwhelmed, and that it's more productive to set priorities and focus on one task at at time. Using the OnTask is simple: first, identify three top priorities and write one each side of the OnTask. Once completed, erase the first task and rotate the OnTask to focus the next goal. The clean, simple design of the OnTask also works as a pen holder to make a user's desk and workday more organized.
"As a designer and engineer, I'm always trying to uncover efficiencies and make life a little easier. I used to work on too many projects at a time. I'd start ten tasks each day and by 6pm, none of them were completed," says Michael Tunney, CEO of CurvGroup and Inventor of the OnTask. "The three-sided design of the OnTask forces me and my team to identify and focus on what's most important so that we end each day with a list of completed priorities."
The OnTask enables users to focus on three goals, without being limited to any number of tasks. Once the first three goals are completed, users can easily write three new goals using the provided dry-erase marker and eraser.
Learn more about the OnTask at http://www.TheOnTask.com.
About CurvGroup:
At CurvGroup, we focus on innovating the ordinary and inventing solutions to life's everyday problems. CurvGroup started after KeySmart, a swiss style key organizer, earned over $300k on Kickstarter. Since then, we've been dedicated to creating highly functional products that simplify life with modern, minimalist design. Check out more CurvGroup products at http://www.GetKeySmart.com