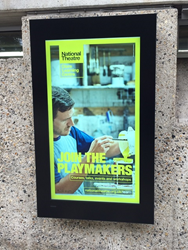 (PRWEB UK) 30 September 2015
Completed earlier this month,onthecase has installed stunning new back lit poster cases inside the Royal National Theatre and an exciting e­‐vitrum digital signage display outside the theatre café area.
The new poster cases, which are equally suitable for external use, have been designed to hold four sheet poster sizes, 1524mm in height by 1016mm in width. The posters hang from a fixing system inside the case which allows the poster to sit directly behind the glass cover; the LED light sheet behind the poster gives all­‐round illumination. The poster cases are secure, watertight and lockable whilst allowing easy access to change poster graphics.
The National Theatre chose a powder coated finish and the whole product range comes with an automatic two year guarantee.
The second part of the project included the installation of wall mounted e‐vitrum digital signage displays. The 55 inch portrait format screens have 9.14mm armoured glass surrounded by printed ceramic borders.
The e‐vitrum digital display range provides excellent resolution at around 3000nits (candelas per square metre) which means that when located outside, images can be clearly read on even the sunniest
days.
Exeter based onthecase is the exclusive UK distributor for the vitrum and e­‐vitrum range of poster cases and digital signage displays for internal and external use. Onthecase has designed and now manufactures the solispost illuminated bollard, a solar powered intelligent bollard for commercial and public sector use.