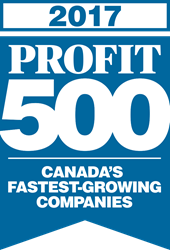 Our continued success reflects our service-oriented culture, as well as the commitment and dedication of our entire team to delivering value to our clients
Edmonton, Alberta (PRWEB) September 14, 2017
Canadian Business and PROFIT today ranked Ontracks Consulting No.237 on the 29th annual PROFIT 500, the definitive ranking of Canada's Fastest-Growing Companies. Published in the October issue of Maclean's magazine and at CanadianBusiness.com, the PROFIT 500 ranks Canadian businesses by their five-year revenue growth.
This marks the fourth consecutive year that Ontracks Consulting, a leading implementer of IBM Maximo Enterprise Asset Management Software and an operational improvement firm, has made the PROFIT 500 list recording a five-year revenue growth of 253%.
"It is never easy to earn a spot on the PROFIT 500, but this year's applicant pool was the most competitive yet," says Deborah Aarts, PROFIT 500 program manager. "This year's winners demonstrate the resilience, innovation and sheer management smarts it takes to build a thriving business today. Canada—and the world—needs more entrepreneurial success stories like these."
"We are honoured to once again be recognized as one of Canada's Fastest-Growing Companies," says Craig Mackenzie, Principal at Ontracks Consulting. "Our continued success reflects our service-oriented culture, as well as the commitment and dedication of our entire team to delivering value to our clients," he adds.
To learn more about Ontracks Consulting
Visit website: http://ontracksconsulting.com
Twitter: @Ontracks_EAM
About Ontracks Consulting
Ontracks Consulting is a leading implementer of IBM's Enterprise Asset Management product Maximo and operational improvement firm, working with clients around the world to improve their operational performance. Ontracks focuses on delivering enterprise implementations and helping clients realize tangible and sustainable operational improvements.
About PROFIT and PROFITguide.com
PROFIT is Canada's preeminent media brand dedicated to the management issues and opportunities facing small and mid-sized businesses. For 33 years, Canadian entrepreneurs across a vast array of economic sectors have remained loyal to PROFIT because it's a timely and reliable source of actionable information that helps them achieve business success and get the recognition they deserve for generating positive economic and social change. Visit PROFIT at PROFITguide.com.
About Canadian Business
Founded in 1928, Canadian Business is the longest-serving, best-selling and most-trusted business publication in the country. With a total print readership of more than 600,000, it is the country's premier media brand for executives and senior business leaders. It fuels the success of Canada's business elite with a focus on the things that matter most: leadership, innovation, business strategy and management tactics. The publication provides concrete examples of business achievement, thought-provoking analysis and compelling storytelling, all in an elegant package with bold graphics and vivid photography. Canadian Business – "what leadership looks like."