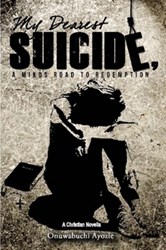 "Readers will relate with their own situation," Ayozie says, "but be drawn to accept that the situation they experienced is or was negative but the afflicted does not have to become completely scarred by the situation thus becoming a negative person."
Dallas (PRWEB) January 15, 2014
According to the American Association of Suicidology, 38,364 Americans committed suicide in 2012. Onuwabuchi Ayozie, author of the new book "My Dearest Suicide: A Mind's Road to Redemption" (published by Lulu), comes from a strong religious background and hopes to not only help readers in this life, but in the next through the prevention of suicide.
"My Dearest Suicide" follows a man on the verge of committing suicide. His thoughts play out in poetic form, showing his own internal battle with both the evil and good spirits inside him.
"Readers will relate with their own situation," Ayozie says, "but be drawn to accept that the situation they experienced is or was negative but the afflicted does not have to become completely scarred by the situation thus becoming a negative person."
Drawing from spiritual and life inspirations, Ayozie hopes her book will not only help those contemplating suicide, but help readers learn to view the world from different perspectives.
An excerpt from "My Dearest Suicide":
"It is I again your faithful sinner.
Back from the life threat contest, I'm the prized winner.
Dishing out insults so I can feel bigger.
Spitting back up to make myself thinner.
Readjusting my thoughts to prepare cyanide for dinner."
"My Dearest Suicide"
By Onuwabuchi Ayozie
Softcover | ISBN 9781257983049
Available at Amazon and Barnes and Noble
About the Author
Onuwabuchi Ayozie has her master's degree in professional counseling and is currently working towards her license in the field. She draws her inspiration for writing from faith and God.