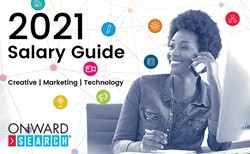 Creative and technology professionals have been vital to helping businesses across the world enhance their online offerings, improve customer experiences, and retool their content strategies. - Ken Clark, CEO, Onward Search
Wilton, CT (PRWEB) January 13, 2021
Onward Search, a leading staffing agency for creative, marketing and technology professionals, has released its 2021 Salary Guide. The publication is one of the most extensive collections of salary information in the industry highlighting over 100 professions within client services, content, design, marketing, studio, tech, video and user experience. It is available online via the Onward Search website.
The compensation data presented in the 2021 Salary Guide is based on market research and other proprietary information collected by Onward Search throughout the year. Despite the effects of the COVID-19 pandemic, salaries have risen an average of 3.2 percent across all professions.
"There is no argument that COVID-19 impacted the way many companies do business but their need for skilled talent remains at a premium," said Ken Clark, CEO of Onward Search. "Creative and technology professionals have been vital to helping businesses across the world enhance their online offerings, improve customer experiences, and retool their content strategies."
The guide calls out the remote / hybrid model as one of the lasting legacies of 2020. While this has resulted in a larger pool of talent for companies recruiting outside of their geographic boundaries, it has also made it more difficult for businesses to uncover the right candidate and meet their individual demands.
"Understanding the salary landscape is more important than ever as companies have begun to recruit on a nationwide level," added Clark. "We hope this information presented in the guide will help our partners properly plan and budget to scale their teams and drive success in 2021."
Onward Search also recently released its new Talent Showcase, the industry's first open portal to view projects and portfolios from its nationwide candidate base. Employers are encouraged to view the award-winning work of creative, design, content and technology professionals. They platform also allows them to request an interview with the candidate or to be alerted of similar profiles.
DOWNLOAD THE ONWARD SEARCH 2020 SALARY GUIDE.
About Onward Search:
Onward Search is an award-winning recruitment and staffing agency with the mission to connect the nation's top companies with the best creative, marketing and technology talent in the industry. Founded in 2007, the company is headquartered in Wilton, CT with regional offices across the US servicing clients in all 50 states. Onward Search also has a dedicated technology staffing division, Onward Select, and a dedicated staffing division for gaming companies, Onward Play. For more information, visit http://www.onwardsearch.com.