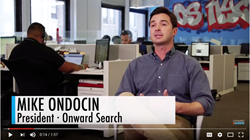 When companies can hire the right talent, the first time around, it can substantially lower the cost associated with turnover.
New York, New York (PRWEB) August 04, 2016
Onward Search, a leading creative staffing agency, has released a video titled "How to Hire Creative Talent." The video provides managers and executives with a number of best practices for hiring within one of the fastest-growing and highly-competitive job markets in the United States.
View featured video: How to Hire Creative Talent
Nearly 300,000 jobs will be added to the creative space over the next 6 years according to the Bureau of Labor Statistics. As demand for creative talent intensifies, Fortune 500 companies, small to medium sized businesses, start-ups and digital agencies will be competing to attract skilled digital creative talent from the same pool. Factor in the growing skills gap amongst these professionals and the digital creative talent market is on the verge of becoming one of the most difficult hiring climates in any US industry.
"When companies can hire the right talent, the first time around, it can substantially lower the cost associated with turnover," said Mike Ondocin, President of Onward Search, who is prominently featured in the video. "Given the difficulty involved with recruiting, hiring and training these professionals, many businesses are turning to staffing agencies like us to help curb the cost associated with in-house recruitment while attracting the highest quality talent."
Onward Search provides temporary, contract and temp-to-hire digital, creative and marketing talent to the nation's top interactive agencies and to the country's largest and most innovative companies. With more than 10 offices across the United States, including New York City, Los Angeles, Chicago and now internationally in London, Onward Search is one of the largest staffing providers in the United States. To learn more about how to hire creative talent for your organization, visit our website, onwardsearch.com, or contact your local Onward Search office today to speak with an industry-specific recruiter.
About Onward Search
Onward Search is a leading recruitment and staffing agency for digital, creative, and marketing talent. We offer a full range of solutions to include contract staffing, permanent placement, and executive search. Onward Search is headquartered in Wilton, CT with its flagship sales office in New York, NY and regional offices throughout the United States and England. We can also be found on Twitter at @onwardsearch, or on Facebook at facebook.com/onwardsearch.