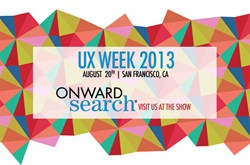 "As those of us in this industry know, UX talent is in high demand and Onward Search takes the stress out of finding good people." Jesse James Garrett, Chief Creative Officer at Adaptive Path
(PRWEB) August 13, 2013
Onward Search, the nation's leading staffing agency for digital marketing and creative talent, will be a sponsor at this month's UX Week 2013 for the third straight year. Taking place in San Francisco, UX Week is an international user experience design conference, now in its 11th year. Onward Search places a strong focus on UX professionals due to the popularity of the profession, which occupied three of the top spots on Onward Search's list of the 10 Hottest Digital Creative Jobs. The company also recently released the Salary Guide For UX Jobs to help identify the top professions and salary expectations within the UX field.
UX Week is hosted by Adaptive Path, a design firm committed to forwarding the practice of experience design. Professionals from all over the world will gather on August 20th in San Francisco for four days of community, inspiration and skill building. The conference will feature talks, presentations and workshops from some of the industry's top experts and attendees will leave with new tools they can put into practice immediately.
"User experience has become a hot topic of conversation in the business world over the last five years. While technologies are rapidly advancing, customer service and product design are becoming more and more important," commented Terra Childs, Director of Staffing for Onward Search San Francisco. "Consumers are no longer going to buy from a company with just an 'okay' customer experience. Whether online or offline, they are expecting more from products, websites, systems, their smartphones and even their refrigerator, DVR or home security interface. It's an exciting and fun time to be working in the user experience space!"
Onward Search, one of the leading providers of user experience jobs in the industry, will be exclusively hosting the show's Refreshment Break on August 20th where attendees can enjoy food or drinks, meet the Onward Search team and enter a raffle for the chance to win Beats By Dre products.
"We're happy to have Onward Search return to UX Week as a sponsor this year," said Jesse James Garrett, Chief Creative Officer at Adaptive Path. "As those of us in this industry know, UX talent is in high demand and Onward Search takes the stress out of finding good people."
As an active member of the user experience community, Onward Search understands that the highly multi-disciplinary field of UX is one of the hottest and most sought after professions in the digital creative space. They aim to support all efforts of these amazing professionals to hone and improve their craft. The Onward Search team prides themselves on working with the best talent and businesses across the U.S. to help connect great people with great companies.
About Onward Search
Onward Search is the nation's leading staffing agency for digital marketing and creative talent. They offer a full range of recruitment and staffing solutions to include contract staffing, permanent placement, and executive search. Onward Search is headquartered in Wilton, CT with branch offices in Atlanta, Austin, Boston, Chicago, Dallas, Houston, Los Angeles, New York City, San Francisco, Silicon Valley, and Washington, D.C. We can be found online at onwardsearch.com, on Twitter at http://www.twitter.com/onwardsearch, or on Facebook at http://www.facebook.com/onwardsearch.