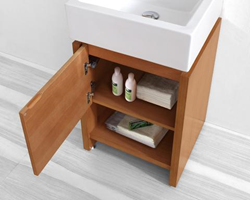 Petite open shelf bathroom vanities are really just miniature versions of the more common larger designs, but there are a few ways to squeeze a little more storage into these smaller vanities.
(PRWEB) November 19, 2013
HomeThangs.com – the online home improvement store has made their goal to deliver the right product to the consumer. With that in mind, shopping and home design tips, as well as special product selections are being introduced.
Open shelf bathroom vanities are hugely trendy in bathroom design right now. Generally this style is associated with large double vanities, but HomeThangs.com has introduced a guide to several very small vanities that mirror this simple style.
The simplest small open shelf bathroom vanities are fairly similar larger versions, with a small, waist high cabinet up top and an open shelf on the base. That said, HomeThangs.com's new guide introduced a few ways to squeeze a little extra storage space out of this basic design, like being aware of the dimensions of the cabinet itself. The cabinet should be tall enough to comfortably hold the tallest toiletries that will be stored in it.
Another great tip is to look for cabinets that open from the top down instead of side to side. Having the door hinges on the bottom edge rather than on the side gives this type of vanity a sort of quasi-drawer; that is, it's possible to reach down and grab something out of the cabinet without having to open it all the way.
Petite open shelf vanities with drawers tend to be a little better for storing smaller items. It's important to be certain how many functioning drawers the vanity has, though, as well as what they're shaped like on the inside to make sure it's worth sacrificing a little extra storage space to be able to store smaller items.
One of the more unusual twists on HomeThangs' new list are vanities that incorporate a drawer into the bottom shelf. Because the drawer doesn't have to accommodate the sink or plumbing, it actually means the vanity has a full sized drawer, which is fairly rare in this style vanity.
Some smaller open shelf bathroom vanities have no storage at all beyond, of course, the shelf. While not ideal for a heavily trafficked bathroom, these very small bathroom vanity are perfect for a guest bathroom, where there's less need for storage space. That simple open shelf also allows important communal items – like TP and towels – to be kept in plain sight for guests who might be shy about digging around in closed cabinets.
To see more of these great, petite vanities, check out the full article here.
HomeThangs.com is not only a home improvement superstore, it also provides expert design tips and a comprehensive shopping guide, taking the ideas from professional interior designers, and offering tips to the consumers on how to pick the products to best suit their needs.