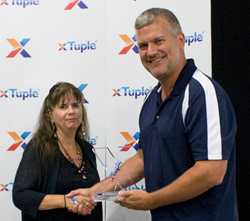 Congratulations to all of our partner award winners; we are thrilled with their accomplishments and the key role they play in xTuple's customers' success.
Norfolk, Virginia (USA) (PRWEB) September 01, 2015
xTuple, a leader in technology-agnostic open source business management software, continues to develop the industry's strongest channel program. Showcasing the success of the firms already in the program, xTuple recently honored its Partners of the Year at PartnerCon15.
The overall Partner of the Year distinction was awarded to Charles Schley of U.S.-based ERP Implementation Consulting Group (ERPICG). In honor of a beloved partner and friend, this coveted distinction is now known as 'Partner of the Year — Dan Means Memorial Award.' xTuple CEO Ned Lilly presented the 2015 Partner of the Year Award to Mr. Schley via conference call due to a last-minute schedule change. His associate, Andrea Knight, accepted on behalf of ERPICG.
"Congratulations to all of our partner award winners; we are thrilled with their accomplishments and the key role they play in xTuple's customers' success," said Danielle Kerner, xTuple director of partner channel development.
Elite Partner Awards
Selected after a rigorous assessment, all value-added resellers (VARs) and implementers of xTuple products were evaluated on achievement in sales, marketing, technical expertise, implementation success, and customer support and satisfaction over the past twelve months.
Reaching Elite Partner status again for 2015, celebrating that milestone achievement for all five years of the program are:
Core Services Group, Michigan (USA) — accepted by Scott Zuke
Core Services Group, LLC is a professional services organization specializing in ERP implementation, helping clients take advantage of applications and services to automate and simplify typical business operations and transactions, integrating applications with new or legacy business systems that together will form a single, cohesive solution, from strategy to configuration to implementation. Core Services Group is a Solution Provider within the xTuple VAR Channel and has earned multiple awards including Implementer of the Year.
Paladin Logic, Limited, Texas (USA) — accepted by Will Bralick
Paladin Logic, Limited, is a Service Disabled Veteran-Owned Small Business (SDVOSB) specializing in ERP customization and implementation, integrated business solutions, and iOS development. Paladin Logic, headquartered in the DFW Metroplex, customizes, implements, and supports business solutions based on xTuple for all sizes of enterprises. Paladin Logic develops cutting edge applications and provides software engineering services for government and industry. A long-standing Gold Level member of the xTuple VAR channel, Will has earned Elite Partner status every year and received numerous awards and accolades including Sales Partner of the Year in 2014.
Soluciones Empresariales Open, Mexico — accepted by Alfredo Martinez
After being an xTuple customer and open source advocate for many years, Mr. Martinez established his company as a Mexico-based Solution Provider in xTuple's VAR Channel and is an all-around resource for sales, development, implementation and customer support for the global English- and Spanish-speaking business communities. Awards include multiple Partner of the Year accolades.
Additional Elite Partners are:
Friendly Systems, Georgia (USA) — accepted by Phil McIntosh
A long-standing xTuple partner, Mr. McIntosh is a valued sales and implementation resource due to his deep industry knowledge and credibility. Friendly Systems is a Solution Provider in the xTuple VAR Channel and first achieved Elite Partner status in 2014.
SDG Consulting, Illinois (USA) — accepted by Anil Cherian
Founded in 2008, SDG Consulting delivers innovative and cost-effective services in diverse areas, from information technology consulting, to market research in new and emerging markets, to business process consulting. SDG Consulting Inc. maintains a Gold Level in xTuple's VAR Channel. 2015 marks the first year as Elite Partner.
AKA Consulting, New York (USA) — accepted by Alex Kleyff
AKA is a family-owned and -operated business devoted to personal service, covering the NYC Metro and Tri-State area of New York, New Jersey and Pennsylvania. AKA is a Solutions Provider in the xTuple VAR Channel and achieves Elite Partner status for the first time this year..
Photos from PartnerCon15 on Flickr
Highlight from 2014 Partner Awards
Tweets
2015 – The Year of the Customer, thanks to #channel #resellers | LINK
#OpenSource xTuple Honors Top Partners for #channel achievements | LINK
Partner of the Year awarded to ERP Implementation Consulting Group | LINK
Tags
#ENSW #ERP #channel #tech #resellers #opensource
About xTuple #Channel
xTuple's Value Added Reseller (VAR) partners are highly trained, professional ERP and technology experts who are authorized to sell, implement and customize the xTuple software worldwide. xTuple's global network is critical to the success of our customers. Partners' implementation and production support saves xTuple users valuable resources in time and money by helping make the right decisions, the first time. More at http://xtuple.com/partners
About xTuple, the world's #1 open source ERP
Award-winning xTuple, makers of the world's leading suite of open source accounting, Corporate Relationship Management (CRM) and Enterprise Resource Planning (ERP), is supply chain management software for growing businesses to control their operations and profitability. xTuple integrates all critical functional areas in one modular system: sales, financials and operations — including customer and supplier management, inventory control, manufacturing and distribution — the powerful tools to Grow Your World®.
As a commercial open source company, xTuple works with a global community of tens of thousands of professional users. xTuple gives customers the ability to tailor solutions with multi-platform support for Windows, Mac, Linux and mobile as well as flexible licensing and pricing options. Connect with the company at xTuple.com, and join the innovation conversation with the open source community at xTuple.org.
Reference the xTuple Style Guide (xSG): xTuple.com/xSG