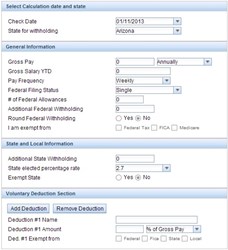 I always recommend PaycheckCity to our employees when they want to see how a benefit change is going to affect their paychecks.
Scottsdale, Arizona (PRWEB) October 14, 2013
For some, open enrollment is a confusing time of year when many have to predict what their healthcare needs will be for the rest of the year. This year, with the launch of the Health Insurance Marketplace, open enrollment may be a little more complicated. The Affordable Care Act led to the creation of state and federally run health insurance exchanges that launched on the first of October. These health plans are for the uninsured but could also help some people who already have hard-to-afford plans or plans that don't cover enough of their health costs. Whatever an individual's personal situation, free online calculators found at PaycheckCity can help compare different scenarios impacting benefit options and take-home pay now that open enrollment has rolled around again. Chances are it's been a while since you've reviewed your health and retirement benefits. There are a lot of details to consider, so here are a few things to keep in mind:

Start early. Investigate health benefit options, and give enough time to analyze each plan. Be aware of policy changes, and contact the HR department for questions. Paying for services that aren't really used? Individuals should try to estimate how much coverage they'll need next year, and consider trimming options down to the most used services.
Consider higher deductibles. Young or healthy individuals may want to switch their health coverage to a high-deductible policy that will reduce premiums. Ask the HR department if Health Savings Accounts are available. They combine lower premiums and higher deductibles with an investment fund to pay for future health-related costs.
Look into life and disability coverage also. Disability insurance is critical, especially for generally healthy people, where the chance of suffering a debilitating injury is higher than the risk of death. A good rule of thumb - insure 60% of pay for disability. In addition, long-term care protection is also important since people are now living longer.
Check into Flexible-Spending Accounts if they are available. They can divert money from paychecks to meet various unreimbursed health costs, pre-tax.
Re-evaluate retirement plans. Use the calculators at PaycheckCity to view the impact of 401k adjustments on take-home pay.
About Symmetry Software
Symmetry Software simplifies the payroll process with our dependable and accurate payroll withholding tax solutions. Our team of software engineers and taxation experts provide innovative, regulatory compliant payroll software products including the Symmetry Tax Engine®, Symmetry Payroll FormsTM, Payroll Point®, and PaycheckCity® calculators. Since 1984, Symmetry Software has been helping clients get the right taxes, the first time.