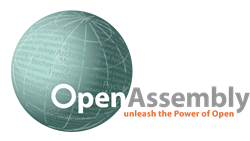 The textbook of the future has no spine, no fixed parts. It's a born-digital playlist of affordable learning content accessible to every student. It can be customized, personalized, and is ever evolving. (Domitilla Enders, CEO, Open Assembly)
New York, NY (PRWEB) November 04, 2013
The latest update to Open Assembly v1.0 arriving in December truly unleashes the Power of Open: sharing of open educational resources has been empowered by the integration of robust networked learning capabilities.
Open Assembly v2.0 features:
■ A New User Interface. The Dashboard, Course Outline, and CoursePilot™ are now fully integrated into a single user experience.
■ Course Collaboration. Instructors can now invite other users to co-administer a course, or any given module.
■ Expanded Content Sharing. Users can now share resources from their Content Library with anyone in or outside the Open Assembly platform.
■ Networked Learning. Integration of social media best practices to facilitate robust P2P and instructor-student course interactions, within a secure, structured environment.
The movement toward disaggregated content has been afoot ever since iTunes taught us to talk about songs instead of albums. This is now happening increasingly in education. Digital capabilities allow us to take content apart easily and remix it into new, curated collections. Open educational resources (OER) are leading the way, while radically reducing course material costs and enabling content to stay current and relevant.
"The textbook of the future has no spine, no fixed parts. It's a born-digital playlist of affordable learning content accessible to every student. It can be customized, personalized, and is ever evolving." (Domitilla Enders, CEO, Open Assembly)
The platform update also facilitates the discovery of high-quality OER for assembling and curating courses, open courseware and content collections. The company intends to host remixable, open digital curricula and content collections assembled by subject matter experts within its user base.
At the time of this announcement, any instructor or student can request an invite to take Open Assembly v2.0 for a spin when it goes live this December.
About Open Assembly
Open Assembly, Inc., is an education technology company committed to facilitating the sharing of affordable, high-quality learning resources in blended and online environments. The company's approach is to leverage the power of disaggregated digital media to facilitate networked learning. Open Assembly is re-imagining the way students and educators learn and interact by making it straightforward for anyone to build or expand their community of learning around shared resources and experiences.
Open Assembly, Inc., founded in late 2011, is based in New York City and is about to graduate from the Varick Street Incubator. More information is available at http://beta.openassembly.com.
Contact: Domitilla Enders, CEO / domi(at)openassembly(dot)com / 917-488-9944