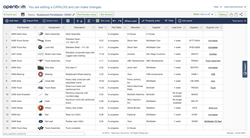 Focused cloud-based services give customers a better and faster route to organize their BOM management processes explains Jim Brown, President of Tech-Clarity
NEWTON, Mass. (PRWEB) June 25, 2019
The research shares practical advice on managing bills of materials (BOMs). BOM management is critical to connecting design, purchasing, and production activities across a manufacturing business. The Bill of Material is the backbone of the manufacturing business, specifying what to buy and what to build, and is the fundamental way which manufacturers define, communicate, and realize their products. Ineffective or poorly managed BOM processes lead to low productivity and costly errors. Managing BOMs is challenging because BOM communication has to bridge disciplines and teams across company boundaries. Sound BOM practices create a bridge that crosses all aspects of the organization by documenting engineering designs and providing the vital information needed by the Purchasing team. Next, the BOM provides the information and structure needed by the Manufacturing team to plan and execute orders. BOM data also serves as the backbone for others to roll up important attributes like weight, costs, and more.
"Tech-Clarity research on BOM management analyzes best practices and examines the top five fundamentals of efficient BOM management. The study shows the complexity of traditional BOM management tools and why many companies feel it is too cumbersome to use a traditional system. It shows how and why using lightweight, targeted cloud BOM management services like OpenBOM can help manufacturing companies to take a big step and improve their BOM management processes," says Oleg Shilovitsky, CEO and co-founder of OpenBOM.
"Effective BOM management creates a cohesive process that connects crucial information and people from design to purchase orders to production. It goes further to provide the right information, including historical data and activity logs, needed to resolve service issues. An effective process leverages a wealth of information in context, including CAD, items, and vendors, without duplicating data or allowing it to be shared without control," explains Jim Brown, President of Tech-Clarity. Focused cloud-based services give customers a better and faster route to organize their BOM management processes.
The full study is available here (https://tech-clarity.com/billofmaterials-management/7823).
The main business value of cloud services is simplicity and the fastest possible ROI. In a matter of minutes, customers can register an account, create a Bill of Materials either directly or from any CAD system of their choice (eg. Solidworks, Autodesk Inventor, Solid Edge, etc.) and securely share that BOM in real-time on browsers or mobile devices with everyone who needs it, within and outside the company.
About Jim Brown and Tech-Clarity:
Jim is a recognized expert in enterprise software for manufacturers with over 25 years of experience in application software, management consulting, and research. He has extensive knowledge on how industrial companies use product innovation, product development, engineering, and other enterprise solutions to improve business performance.
Jim is actively researching the value of improving product innovation and operational performance through digitalization.
Tech-Clarity is an independent research firm focused on how manufacturers use digitalization, software technology, best practices, and IT services to drive operational improvement and business value. Tech-Clarity shares this knowledge with companies through publications, speaking, and strategic workshops to help company leaders understand and achieve the business value of product innovation, product development, engineering, manufacturing, service, Internet of Things (IoT), and other related software. The firm is dedicated to educating companies on making strategic improvements through the intelligent use of enterprise and social software. http://www.tech-clarity.com
About OpenBOM
OpenBOM develops modern cloud-based real-time collaboration and data management technology to create integrations and manage Bill of Materials across networks of engineers, supply chain managers, and contract manufacturers. OpenBOM enables people to share and collaborate using online Bill of Materials from initial design through all stages of engineering, manufacturing, and supply chain. Headquartered in Boston, MA area, OpenBOM's website is at http://www.openbom.com. For more information or questions please contact oleg(at)OpenBOM(dot)com. OpenBOM is a wholly owned and branded product of Newman Cloud, Inc.
Follow OpenBOM's cloud blog, Facebook page @openbom Twitter account for real-time updates.
Solidworks, Autodesk Inventor, Solid Edge are trademarks of Dassault Systemes, Autodesk, and Siemens.