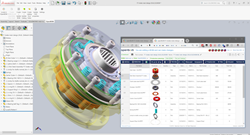 New design to purchasing process is a unique way for engineering teams and medium size manufacturing companies to organize data and process between engineering, manufacturing and procurement and escape chaotic spreadsheet based process
DALLAS (PRWEB) February 11, 2019
OpenBOM, the first real-time collaborative Bill of Materials and Inventory Management system for engineering, manufacturing, and supply chain has released new functions to deliver end-to-end design to purchasing process for engineering teams and medium size manufacturing companies. This functionality gives OpenBOM subscribers tools to plan Order BOMs, manage vendors and create purchase orders as a single integrated process fully integrated with design and engineering Bill of Materials process.
OpenBOM's unique collaborative environment allows customers to create Bill of Materials directly from any modern CAD environment and integrate with the purchasing process in the following 4 steps:

Manage catalogs of standard parts and engineering components
Create and update Bill of Materials fully synchronized with CAD systems
Create Order BOMs for specific production batch orders
Manage vendor lists and generate purchase orders for vendors
The OpenBOM modern cloud-based environment allows all participants from design, manufacturing, and procurement to stay connected and synchronized in global manufacturing eco-systems.
"BOMs generated by sophisticated CAD systems require others to have the same sophisticated CAD systems in order to access that information. This is not happening and your BOM data is held hostage. OpenBOM is different. It is a cloud based system that I can invite anyone into to view and edit. This means that I can share my BOMs with others and they can review and/or edit this single source of truth"- says Michael White, Digital Carbon
"Most of the available tools are too much. Too much cost. Too much effort to implement. Too much to maintain. OpenBOM is perfect for our agile startup to get our product to market. It's just the right size for us and fits nicely into our organization" - says David Anderson, Verdetech Products.
OpenBOM demonstrated strong growth in new user registration and customer usage in 2018. Engineers and manufacturing companies across the globe are using OpenBOM to manage bill of materials and coordinate their work. "New design to purchasing process is a unique way for engineering teams and medium size manufacturing companies to organize data and process between engineering, manufacturing and procurement and escape chaotic spreadsheet based process" said Oleg Shilovitsky, CEO and co-founder of OpenBOM.
About OpenBOM™
OpenBOM develops modern cloud-based real-time collaboration and data management technology to manage Bill of Materials and Inventories across networks of engineers, supply chain managers, and contract manufacturers. OpenBOM enables people to share and collaborate using online Bill of Materials from initial design through all stages of engineering, manufacturing, and supply chain. Headquartered in the Boston, MA area, OpenBOM's website is at http://www.openbom.com. Learn more how OpenBOM is the new alternative to BOM spreadsheets. For more information or questions please contact oleg(at)OpenBOM(dot)com. OpenBOM is a wholly owned and branded product of Newman Cloud, Inc.