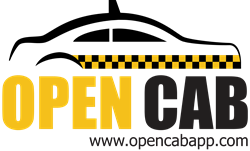 Life-changing app.
Cincinnati, OH (PRWEB) September 05, 2015
Open Cab announces the launch of a new app that enables users to book a cab worldwide without worrying about surge pricing or other inconveniences. Although ride sharing apps made a big splash in the world of transportation when they originally debuted, issues like price surges and inexperienced drivers have plagued the service. Open Cab is solving those problems by bringing the convenience of booking a cab via an app to registered taxi and livery drivers.
With Open Cab, anyone with an iPhone, Android device or computer can use the app to choose a taxi cab, black car, SUV, sedan or passenger van. Open Cab empowers its users by providing real-time driver tracking. This tracking ensures that users of Open Cab will know exactly when their ride is going to arrive.
When a driver arrives, the fact that Open Cab users can leave feedback about their experience means they can count on being treated with the level of service they deserve. Not only will riders be treated with respect, but they won't have to worry about any payment issues. The reason is Open Cab provides upfront pricing. And because Open Cab does not use surge pricing, app users don't need to worry about any unexpected price spikes.
Open Cab completes the stress-free booking and payment process by storing payment information in the app. Instead of worrying about having enough cash riders can simply sit back and relax in the type of vehicle that they selected.