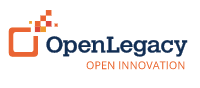 "Ron and Jen bring precisely the experience and abilities that OpenLegacy needs at this stage of our growth."
Reston, VA (PRWEB) September 06, 2017
OpenLegacy, a global provider of API integration and management software, has announced the appointment of two new senior executives who will help the company manage its rapid growth. Joining the leadership team are Chief Financial Officer, Ron Rabinowitz and Chief Marketing Officer, Jennifer Troxell.
As Chief Financial Officer, Mr. Rabinowitz will oversee the global financial operations, strategy, investments and reporting of the company. During his 15 year career at Procter and Gamble (P&G), Ron gained experience in various local, regional, and global management roles. OpenLegacy will benefit from his leadership as the CEO of a P&G joint venture where he gained experience with the ecosystem of technology startups, including the areas of financing large scale commercial and investment transactions, and intellectual property.
Ms. Troxell joins the company as Chief Marketing Officer. She brings 20 years of marketing experience to OpenLegacy. She held VP marketing for integration leader webMethods, which was acquired by Software AG. She also served as SVP Marketing at OpenText, a global giant in enterprise information management. More recently, Ms. Troxell served as a member of the Walker LLC team, providing strategic advisement to CEOs and investors to create differentiation, drive revenue, and scale their businesses. OpenLegacy will benefit from her proven track record identifying and capitalizing emerging market trends, while enabling and accelerating teams to deliver measurable revenue growth.
OpenLegacy's ability to enable the fast deployment of enterprise based digital services has caught the attention of many in the API and Enterprise communities and resulted in rapid growth. Recognition for innovation by Gartner and other industry analyst and publications like CIO Review and Silicon Review has helped the company gain both new customers and numerous partnerships.
"Both Ron and Jennifer are timely additions to our organization," said Romi Stein, CEO and Cofounder of OpenLegacy. "They bring precisely the experience and abilities that OpenLegacy needs at this stage of our growth. Ron has a tremendous background in finance and business while Jennifer has a track record for positioning and successfully executing marketing strategies for growth. We are very excited to have them both as part of our leadership team."
Mr. Rabinowitz will be based in the Geneva, Switzerland office while Ms. Troxell will be located at the U.S. headquarters in Reston, VA.
About OpenLegacy:
OpenLegacy helps organizations quickly launch innovative digital services by extending their core (legacy) systems to the web, mobile and cloud in days or weeks versus months. Our API software quickly reduces project backlog by automating and accelerating API creation, deployment, testing and management from core applications, mainframes and databases. Together, business and IT teams can quickly, easily and securely meet consumer, partner or employee demands for digital services without modernizing or replacing core systems, and without special programming skills or invasive changes to existing systems and architectures. Learn why leading companies choose OpenLegacy at http://www.openlegacy.com.