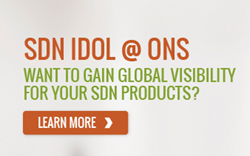 Menlo Park, CA (PRWEB) January 10, 2014
Open Networking Summits, Inc., the industry's only nonprofit conference organization that brings together the entire networking ecosystem to discuss advancements in Software Defined Networking (SDN), OpenFlow and Network Function Virtualization (NFV) technologies, is now accepting exhibitor entries for SDN Idol, the industry's top award for the year's hottest SDN solutions.
SDN Idol is a fun, friendly competition that will showcase disruptive SDN technologies, products or use cases from exhibitors at the Open Networking Summit. While a panel of esteemed judges will narrow the field to the top 5 contestants, attendees at the fourth annual ONS will vote and crown the winner.
This year's SDN Idol goes beyond slide-ware to live demonstrations that will be done on Monday, March 3rd, during the Demo Track of the main conference program, for an SDN audience that boasts technologists, executives, investors and end-users.
How it works:
All ONS2014 Exhibitors can apply by submitting a demo proposal for a SDN or Openflow technology, product or use-case. The submission process, eligibility information and judging criteria are available online at: http://www.opennetsummit.org/sdn-idol.html.
A panel of judges, with diverse backgrounds representing different sectors of the SDN ecosystem, will review and rank all demo proposals. Up to 8 of the highest ranking entries will conduct their proposed demos for the judges, will will then select the top 5 finalists to compete in SDN Idol at ONS2014.
The finalists will be given fifteen minutes to present their live demo on-stage during the Demo Track, as part of ONS2014's main conference program. Attendees will then be asked to vote for their pick; the SDN Idol winner will be announced LIVE on Wednesday, March 5th, at 11:45 a.m.
To learn more about becoming an exhibitor at ONS2014 and participating in SDN Idol, please visit http://www.opennetsummit.org/why-exhibit.html or contact exhibit(at)opennetsummit(dot)org.
For additional information on the conference registration, sponsorship, and program, visit: http://www.opennetsummit.org.
Schedule
January 31st Submissions deadline and SDN Idol Judges Announcement
February 7th Judges will shortlist up to 8 candidates to schedule online demos
February 13th – 14th Online demonstration to Judges
February 19th Final reruns based on feedback, if needed
February 20th Press release and announcement of finalists for SDN Idol @ONS2014
March 3rd Finalists will do a 15-20 minute demonstration during the SDN Idol Demo Track, as part of the main conference program
March 5th Winner will be announced Live at 11:45 a.m.
March 6th Press release on the 2014 SDN Idol winner
To learn more and participate, please visit: http://www.opennetsummit.org/sdn-idol.html.
About ONS
With a mission to transform networking, the non-profit ONS is exclusively committed to bringing together the thought leaders, luminaries, creators, and innovators of SDN and OpenFlow to lead the development of the networks of tomorrow. Founded in 2011, ONS produces conferences that attract participants from around the world, who come to discuss, share and shape the future of networking. Through exhibitions, demonstrations, visionary talks, technology tutorials and networking opportunities, ONS helps facilitate the understanding and dialogues that drive the advancements and adoption of new networking technologies. More information on the Open Networking Summit can be found at http://www.OpenNetSummit.org.