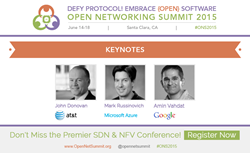 "SDN has been key in bringing enterprise-class cloud services to where they are today, and Microsoft Azure has been at the forefront of this transition," said Mark Russinovich, CTO of Microsoft Azure
Menlo Park, CA (PRWEB) June 03, 2015
Open Networking Summits, Inc., (ONS), the premier SDN and NFV conference, today announced that leading executives from Google and Microsoft will join AT&T to comprise a powerful keynote speaker session at the upcoming conference taking place June 14-18, 2015 at the Santa Clara Convention Center and Hyatt Regency. Mark Russinovich, CTO of Microsoft Azure, Microsoft's cloud computing platform, and Amin Vahdat, fellow and technical lead for networking at Google, will speak on Wednesday, June 17 as part of a 90 minute session that begins at 8:30 a.m. PDT.
Russinovich will discuss Microsoft Azure's approach to the software-defined Data Center across its services including a look at the capabilities and design of new networking advancements. Vahdat will present the first look into Google's cost-effective software-defined network design and implementation for its data centers, showing how it addresses the company's exponentially growing bandwidth and scale demands, all while maintaining operational simplicity.
"SDN has been key in bringing enterprise-class cloud services to where they are today, and Microsoft Azure has been at the forefront of this transition," said Russinovich. "With SDN, we are better able to meet the rigorous hyper-scale and automation requirements of the public cloud. ONS provides an important opportunity for us to share our knowledge on how we have applied the principles of virtualization, scale-out, partitioned cloud design and central control across Azure, and how we're embracing the future of the software-defined datacenter based on these learnings."
"Google's data centers power the most demanding interactive, storage, and cloud services on the Internet, all requiring the highest levels of availability," said Amin Vahdat. "With a first-ever look into our data center network design and implementation at ONS, attendees will learn how our focus on the data, control and management plane principles of SDN are capable of meeting Google's colossal data center networking demands."
"Having executives from AT&T, Microsoft and Google join the same keynote session delivers an impactful message that SDN is both a necessity and a reality for today's web-scale businesses," said Guru Parulkar, chairman of ONS2015. "The challenge of exponential growth faced by these firms, coupled with the extreme scale of their deployments, introduces a staggering level of complexity into their data center networks. Learning how SDN and other virtualized solutions can simplify and overcome these challenges will make this session very poignant for our audience."
For Media partnership and media passes, email: media(at)opennetsummit(dot)org
For sponsorship and exhibiting opportunities, email sponsor(at)opennetsummit(dot)org
Register now for ONS2015, don't miss out.
About ONS, Inc.
Created by the founders of software defined networking (SDN), Open Networking Summits Inc., a non-profit organization delivers events designed to foster an open, productive dialogue around the opportunities, challenges and key developments in the quickly evolving world of OpenFlow, SDN and network function virtualization (NFV). For the past four years, the industry's premiere event – Open Networking Summit (ONS) – has brought the networking ecosystem of end-users, engineers, business leaders and researchers together in Silicon Valley to discuss the possibilities and shape the future of the networking industry. In addition to the annual summit, ONS offers other events to match the increasing pace of innovation in SDN/NFV/OpenFlow. These include the monthly ONS Inspire! Webinar Series, the ONS Accelerate! User-Led Workshop on SDN/NFV in Telecom Networks, the SDN Academy and the SDN Meetup events. More information on the Open Networking Summit and upcoming events can be found at http://www.opennetsummit.org