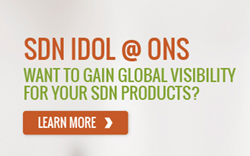 Menlo Park, CA (PRWEB) February 24, 2014
Open Networking Summits, Inc. (ONS) represents the industry's premier and only non-profit conference that brings together the entire networking ecosystem to discuss advances in software-defined networking (SDN), OpenFlow, and network functions virtualization (NFV). The fourth annual ONS will be held March 3-5, 2014, in the heart of Silicon Valley, at the Santa Clara Convention Center and Hyatt Regency.
SDN Idol is a fun, friendly competition that will showcase disruptive SDN technologies, products or use cases from exhibitors at the Open Networking Summit.
This year's SDN Idol goes beyond slide-ware to live demonstrations presented as the Demo Track of the main conference program, for an SDN audience that boasts technologists, executives, investors and end-users. The submissions were judged on the following criteria: Business Value, Technology Value, Differentiation against competition, Advancement of overall SDN and Demo.
The judges for SDN Idol 2014 are:
> Andrew Conry-Murray, Director of Content & Community, Interop.
> Jason Edelman, Principal Solutions Architect, Presidio.
> Leon Poutievski, Staff Networking Software Engineer, Google.
> Jim Smith, General Partner, Mohr Davidow Ventures.
After two rounds of reviews, of submitted proposals and then shortlisted live-demos, the judges have chosen five finalists:
> Brocade: Real-time SDN Analytics for DDoS mitigation (Proposal)
> HP: HP SDN App Store and Open SDN Ecosystem (Proposal)
> OpenDaylight: Hydrogen (Proposal)
> Pica8: Pica8's Open SDN Starter Kit (Proposal)
> Radware: Adaptive Network, Application and APT Protection (Proposal)
The finalists will present their live demonstrations at the SDN Idol Demo Track on March 3rd from 2:30pm to 4pm.
The finalists will be given fifteen minutes to present their live demo on-stage during the Demo Track, as part of ONS2014's main conference program. Attendees will then be asked to vote for their pick; the SDN Idol winner will be announced LIVE on Wednesday, March 5th, at 12:30pm. Winners can use the SDN Idol 2014 moniker for their award winning product on their website and product materials.
ONS has been the showcase for the most SDN exhibits under one roof, featuring early adopters, vendors, startups, academics and industry labs. ONS2014 will have a larger exhibit floor to give attendees more room to interact with exhibitors demonstrating their solutions, discussing use cases and collecting feedback to accelerate adoption of next-generation technologies.
ONS provides a valuable forum for networking opportunities, enabling everyone across the ecosystem—from start-ups and investors to established vendors; from technologists to business executives; from researchers to practitioners; from carriers to enterprises, journalists, analysts, and government agencies—to mingle and discuss their ideas.
About ONS
With a mission to transform networking, the non-profit ONS is exclusively committed to bringing together the thought leaders, luminaries, creators, and innovators of SDN and OpenFlow to lead the development of the networks of tomorrow. Founded in 2011, ONS produces conferences that attract participants from around the world, who come to discuss, share and shape the future of networking. Through exhibitions, demonstrations, visionary talks, technology tutorials and networking opportunities, ONS helps facilitate the understanding and dialogues that drive the advancements and adoption of new networking technologies.