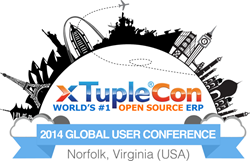 You can't pick up an article today without being bombarded with 'big trends' in enterprise software.
Norfolk, Virginia (USA) (PRWEB) September 08, 2014
Seats at xTuple's global ERP user summit (#xTupleCon14) are filling fast, as the hotel room block and conference registration deadline of September 15 approaches.
At last year's inaugural xTupleCon, CEO Ned Lilly warned attendees that the 2014 theatrical release of "X-Men: Days of Future Past" may lead to a thematic tie-in with xTupleCon14. As he will share in his opening keynote, "Days of Future Apps" speaks to several major themes in xTuple product and service development – embracing the future with new technologies, new platforms, and more flexibility to make business software do what business owners need it to do.
In combination with xTuple's beta launch of xTuple University (xTupleU) — an online learning center for the enterprise software open source community – attendees of xTupleCon14 will receive complimentary, unlimited access extended past the October 20, 2014, beta-close period.
Segregated into three tracks – Business, Operations & Planning and Technology – sessions are designed to appeal to a broad audience of users, from manufacturers to distributors, from financial officers to non-accountants, from brick-and-mortar companies to online businesses, from CEOs to IT. Following the multi-track format, attendees have three 'Ask the Expert' (#AMA – Ask Me Anything) sessions from which to choose.
Conference sessions include trending topics such as, How to:

Keep your company's accounting Sarbanes-Oxley compliant
Improve your profitability with integrated Business Intelligence
Expedite Sales Orders to Work Orders for job-oriented manufacturers
Solve common electronic data interchange (EDI) challenges
Use CRM to capture business growth opportunities
"You can't pick up an article today without being bombarded with 'big trends' in enterprise software. We hear that cloud deployments will take over, and about the prevalence of mobile devices and the resultant 'consumerization of IT.' 'Social' takes on new meaning. And then, as if we weren't already bombarded with enough data, there's 'big data.' Today in order to be effective these trends must converge with a common goal of making innovation and ERP itself easier to consume," revealed ERP analyst Cindy Jutras of Mint Jutras of her xTupleCon14 keynote.
Non-industry keynote U.S. Navy Captain Bob "Goose" Geis will share stories of leadership and the value of training, featuring incredible true stories of crisis management, from the Navy Region Mid-Atlantic's Chief of Staff. xTuple is headquartered in Norfolk, Virginia, home to the largest naval base in the world and often regarded as 'Pentagon South.' From aviation school to Naval Flight Officer (NFO), tours of duty in the Pacific and Middle Eastern theaters, to commanding the Eastern Seaboard's Master Jet Base (hence the reason jets constantly fly overhead, a tourist attraction themselves), Captain Geis reveals what it's like to be in the service of the largest military force on the planet.
Registration closes September 15, 2014: https://xTuple.com/xtuplecon14.
Tweets:

Welcome to Days of Future Apps #xTupleCon14 <<full agenda announced
Attending "Days of Future Apps" #xTupleCon14 pays for itself <<get #xTupleUniversity free through 12/31/14
#OpenSource leader xTuple publishes User Conference session/keynote descriptions [register before September 15]
Last Chance Registration for World's #1 Open Source ERP global user conference [deadline September 15]
Tickets to meet Apple co-founder Steve Wozniak [deadline September 15] #xTupleCon14 @stevewoz
LINK: http://ow.ly/B3Qm8
About #xTupleCon14
Held in the downtown business district at the premier Norfolk Marriott Waterside Hotel and Conference Center, the annual xTupleCon brings together a global community of open source technologists and ERP users to learn, collaborate and innovate. For 2014, attendees experience two days of in-depth pre-conference hands-on workshops, a VIP welcome reception, awards dinner, door prizes, invaluable training, and more. xTupleCon14's weeklong events run Monday, October 13, through Saturday, October 18, 2014.
About xTuple, the world's #1 open source ERP
Award-winning xTuple, makers of the world's leading suite of open source accounting, Corporate Relationship Management (CRM) and Enterprise Resource Planning (ERP), is supply chain management software for growing businesses to control their operations and profitability. xTuple integrates all critical functional areas in one modular system: sales, financials and operations — including customer and supplier management, inventory control, manufacturing and distribution – the powerful tools to Grow Your World®.
As a commercial open source company, xTuple works with a global community of tens of thousands of professional users. xTuple gives customers the ability to tailor solutions with multi-platform support for Windows, Mac, Linux and mobile as well as flexible licensing and pricing options. Connect with the company at xTuple.com, and join the innovation conversation with the open source community at xTuple.org.
CIO Review named xTuple a top company in the forefront of tackling Manufacturing Technology challenges and impacting today's marketplace.
xTuple Supports Innovation
From blueprints to buildouts, xTuple helps foster startups in the heart of the Mid-Atlantic technology corridor between Research Triangle, North Carolina, and Washington, D.C., as a committed, passionate member of the Norfolk/Virginia Beach tech community. Learn more at xTuple.com/aboutus.
Reference the xTuple Style Guide: xTuple.com/xSG