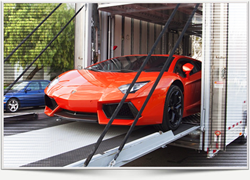 Learn the differences between Open and Enclosed Auto Transport - see Infographic!
Los Angeles, CA (PRWEB) September 08, 2014
Relocating a vehicle by driving can be a significant expense. Gas prices continuously rise meaning it will cost more to drive than to ship the vehicle. Add the wear and tear on the car, and the time spend driving across the country, and it becomes clear it will be expensive. It is better to arrange a car shipping service. Hiring an auto mover means the customer will have to choose between the two methods of transport – open and enclosed auto transport.
The Corsia team has now made it easier to learn and choose the appropriate method. Company designers have developed an awesome infographic illustrating the differences between open and enclosed auto transport service. To see the infographic, please go to this web page http://www.corsia.us/infographic-open-vs-enclosed-auto-transport.
Open auto transport is the most popular method of shipping a car.
Shipping a car on an open carrier exposes it to road and weather elements. However, this is the most popular method that is suitable for all types of vehicles. Open auto transport is readily available as it is the standard shipping method. About 90 percent of the car carriers across the country are open. Open car carriers can fit more automobiles on one trailer. Some standard trailers fit from 7 to 10 vehicles. The higher demand and the availability contributes to lower car shipping rates.
Enclosed auto transport is often recommended for sports, luxury and classic cars.
Covered trailers protect from weather and road elements while the car is in transit. Additionally, this type of transport is more expensive, often with $300 to $500. Why is that?

Enclosed trailers are more expensive, which means there are fewer carriers in the country who offer enclosed services. Compared to open, enclosed trucks in America are only 10 percent of the whole fleet. The demand then raises the costs.
The enclosed car carrier can fit fewer cars inside the trailer, which affects the price as well. Customers can get their car shipped in one car carrier trailer or in 5, but almost never in a ten car carrier like with the open trailers.
Enclosed car shipping means more special care for the cars that are being shipped. The shippers have more experience with high-end vehicles and offer "white glove" service.
Corsia Logsitics' infographic now makes it easier to understand the differences at one glance. The infographic is simple to understand and helpful when it comes to choosing auto transport service.
About Corsia Logistics
Corsia Logistics is California-based company that provides auto transport services nationwide. The company offers free vehicle shipping quotes online or over the phone. Corsia has earned the trust of many companies already to provide transport for standard, sports, custom and classic vehicles. For details go to http://www.corsia.us or call the main line (818) 850-5258.