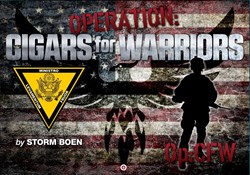 Soaring requests for premium smokes prove that the giving of such a small item, a single cigar, makes a huge impact on their well-being.
Easton, PA (PRWEB) October 07, 2013
The all-new Cigar Advisor is an online cigar magazine that brings a fresh, irreverent, and down-to-earth perspective on all things cigars to thousands of smokers. In addition to educational cigar content and behind-the-scenes cigar industry articles from some of the business's top names, Cigar Advisor delivers an array of content about a variety of topics of interest to people who enjoy the cigar lifestyle. The magazine also features cigar reviews and ratings submitted by real smokers. Cigar Advisor just published an article by Storm Boen on Operation: Cigars For Warriors.
Operation: Cigars For Warriors is a non-profit organization that accepts monetary donations or cigar donations to send over to troops across the world so they may better relax after a hard day of work or in battle. Boen writes "It's a little taste of home for our troops – a good cigar at the end of a day, together with a chance to unwind while working hard so far away from family and friends. This is Operation: Cigars for Warriors, and it's an amazing network of volunteers working to help make that relaxing moment happen for our troops. Soaring requests for premium smokes prove that the giving of such a small item, a single cigar, makes a huge impact on their well-being. And that's the primary mission of Op: CFW, to send premium cigars and cigar-related items to our troops in war zones."
Storm also writes "Op: CFW has been fortunate to enjoy partnerships with some big names in the cigar business, including Famous Smoke Shop and here with Cigar Advisor. They're a huge contributing factor to the success we've enjoyed to date, through tremendous monthly donations and multiple ways they show their support to us. Drew Estate was the first company that stood beside us, called us partners, and they continuously up their support. Drew Estate has such a great reputation for integrity and success, which gave us a strong start of legitimacy - and many other companies have stepped up big time to offer support. Without our partners in the cigar industry, we would have been completely backlogged with requests for years." To learn more about Operation: Cigars For Warriors, visit Cigar Advisor.
About Cigar Advisor Magazine
Cigar Advisor magazine is a digital publication created for real cigar enthusiasts who love tobacco and live the lifestyle. Cigar smokers are passionate about almost everything they do - whether it's the drinks they savor, the food they devour, the cars and motorcycles they dream of, the sports they're fanatical about or the women they love, Cigar Advisor shares those passions with a razor-sharp edge, soaking up each day and experience as if it were our last. Find that passion and more on display at CigarAdvisor.com.