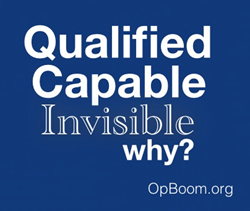 Employers have a moral responsibility to reevaluate their hiring practices and commit to becoming part of the solution to the unemployment crisis.
SAN DIEGO, CA (PRWEB) October 14, 2014
By conservative estimates, 9.6 million Americans are unemployed, although recent studies suggest that 15 million is a more accurate number. Regardless of which estimate you choose to believe, one fact remains: since the economic recovery began in 2009, we have continued to see more long-term unemployed than at any time since the Great Depression.
For 1 in 3 long-term unemployed workers ages 45 to 59, there has been no economic recovery. Operation Boomerang has launched the "Qualified. Capable. Invisible. Why? Campaign" to give the jobless a voice, encourage employers to start viewing long-term unemployed job seekers as an overlooked resource, and to solicit corporate partnerships.
Beginning October 15th, long-term unemployed midlife job seekers across America will be asked to send the "Why? Campaign" bulletin along with their resumes to government officials, employers, CEOs and the media. The campaign is a grassroots movement to increase awareness of the hiring challenges faced by midlife job seekers and demand reform.
A recent study from the John J. Heldrich Center for Workforce Development at Rutgers University shows that workers aged 45 to 59 make up the largest percentage of the long-term unemployed—a staggering 34%.
"Unemployed midlife professionals spend an average of 46 weeks to several years looking for work before finding gainful employment. The longer an older job seeker is out of work, the less attractive to employers he/she becomes," said Lisa Strickland, Executive Director of Operation Boomerang, a nonprofit offering support and job placement services to the long-term unemployed over age 45.
"The ugly truth is that midlife workers have been dealt a double blow. Not only have they lost their jobs⎯they've lost their employability. In a word, they've become invisible," says Strickland.
The long-term unemployed over age 45 face more difficulties when job prospecting than any other demographic. Why? Strickland maintains that the hiring system is broken: "Employers typically hire on the basis of a "perfect match" with the job description, instead of assessing applicants on the basis of transferable skills and ability to do the job. Applicant Tracking Systems automate the screening process, leaving the "human" out of human resources and most applicants out in the cold. Employers tend to correlate duration of unemployment with a perceived decline in skills, despite overwhelming evidence to the contrary. Experience is no longer valued and ageism is rampant."
Long–term unemployment begets joblessness. Studies show that the long-term unemployed over age 45 are viewed differently from employed applicants during job interviews. The stigma associated with long-term unemployment is the basis of bias leading to unemployment discrimination.
"Experienced midlife professionals have been ousted out of the labor market as a result of negative perceptions of the long-term unemployed and widespread corporate reliance on outdated and discriminatory hiring practices," Strickland added. "Employers have a moral responsibility to reevaluate their hiring practices and commit to becoming part of the solution to the unemployment crisis."
Strickland went on to say that the campaign is one of several initiatives Operation Boomerang has in development to "increase public awareness and inform forward-thinking employers about the benefits of partnering with us."
The Society for Human Resource Management (SHRM) issued a document, "Best Practices For Hiring and Recruiting the Long-term Unemployed," to promote inclusive hiring strategies. These best practices were unveiled in January during President Obama's meeting at the White House with business leaders about the long-term unemployed.
Strickland urges employers to work together with advocacy groups to tackle the unemployment crisis: "The days of turning a blind eye to the havoc that's been wreaked on millions of workers in their prime earning years are over. Employers need to recognize that it's to their benefit to support this cause and partner with us to effect positive change. It's time to move past the mindset that an employment gap has any bearing on a candidate's qualifications or likelihood of success in the workplace."
Operation Boomerang is a non-profit organization dedicated to helping the long-term unemployed over age 45 find work and make a comeback. We partner with maverick, exemplar employers who sponsor our initiatives, pledge to review recruitment methods and commit to initiating inclusive hiring practices to ensure that long-term unemployed midlife job seekers are fairly considered for open positions. To learn more about how supporting our initiatives can have both an immediate and long-term positive impact on your business, please contact us. You can also find us on Facebook, LinkedIn and Twitter @opboom.