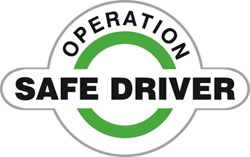 Philadelphia, PA (PRWEB) October 18, 2013
The U.S. Department of Transportation's Federal Motor Carrier Safety Administration (FMCSA), along with the Pennsylvania State Police, FedEx and the Commercial Vehicle Safety Alliance (CVSA), will hold a media conference on Monday, October 21, in Philadelphia, Pennsylvania, to officially launch the North American-wide Operation Safe Driver Week (October 20-26). This event is being held in close proximity to the Annual International Association of Chiefs of Police Conference.
Operation Safe Driver Week will focus on how motorists can drive safely around large trucks and the need for truck and bus operators, as well as passenger vehicle drivers, to follow the rules of the road, avoid aggressive and unsafe driving behaviors without distractions and while buckled up. During this week, jurisdictions across North America will engage in stepped-up traffic safety enforcement aimed at unsafe driving behaviors, particularly distracted driving. This program will also feature PSAs in the Philadelphia region.
When:
Monday, October 21, 2013, at 9:30 am
Where:
FedEx Ground Station, 1 Tinicum Island Road, Philadelphia, PA 19113
Who:

Jack Van Steenburg, Chief Safety Officer, FMCSA, U.S. DOT
Sgt. Tom Fuller, New York State Police, and President, CVSA
Brian Neal, Operation Safe Driver Program Chair, FedEx Ground
Amanda Kloehr, Truck Crash Survivor and Activist for Distracted Driving Prevention
With special guests, Commissioner Joseph A. Farrow, California Highway Patrol, and Cpl. Richard Koontz, Pennsylvania State Police
Why:
Nearly 4,000 people are killed and another 100,000 others are injured in truck and bus crashes on the nation's highways each year. Most of these are preventable. In addition, a recent CDC survey revealed that 58% of high school seniors and 43% of high school juniors said they had texted or emailed while driving during the previous month. The National Highway Traffic Safety Administration (NHTSA) reports that, for drivers 15-19 years old involved in fatal crashes, 21% of the distracted drivers were distracted by the use of cell phones.
Features:

Harrisburg, PA native and military veteran Amanda Kloehr, now 25, almost died when she slammed her car into the back of a tractor-trailer five years ago. She says her inattention cost her eye and more than 20 surgeries to rebuild her smashed face. She is lucky to be alive and determined to save lives by sharing her courageous story.
A demonstration of a tractor-trailer's "No Zone" to highlight blind spots around a truck where the truck driver cannot see passenger vehicles will be conducted.
Attendees will sign a "No Texting Promise" poster adjacent to vehicles on display.
Public service spots and the educational kit, Teens & Trucks, as well as the Curbing Distracted Driving DVD, will be available to members of the working press.
Photo opportunities and individual interviews will be available at the conclusion of the event.
About Operation Safe Driver
Operation Safe Driver was launched in 2007 by CVSA, in partnership with the FMCSA, to address the problem of improving the behavior of all drivers operating in an unsafe manner—either by, or around, commercial vehicles—and to initiate educational and enforcement strategies to address those exhibiting high risk behaviors. For more information about CVSA's education and outreach programs for drivers, including three educational programs and the "Curbing Distracted Driving" young/teen driver training DVD, which was released in May 2013, visit http://www.operationsafedriver.org.
About CVSA
CVSA is an international not-for-profit organization composed of local, state, provincial, territorial and federal motor carrier safety officials and industry representatives from the United States, Canada and Mexico. Its mission is to promote commercial motor vehicle safety and security by providing leadership to enforcement, industry and policy makers. In addition, CVSA has several hundred associate members who are committed to helping the Alliance achieve its goals, uniformity, compatibility and reciprocity of commercial vehicle inspections, and enforcement activities throughout North America by individuals dedicated to highway safety and security.